Your donations help keep this site running,
thank you very much for the support!

Penname:
ElektraLane [
Contact
]
Real name:
Jennifer
Status:
Member
Member Since:
April 07, 2010
Website:
Beta-reader:
I am a 27 year old single mother of a little girl. I love Twilight (obvisouly :) and out of the the 4 books (well, 4 1/2 if you count Midnight Sun) Eclipse is IMO the best one. I have been a fanfic reader for YEARS, and not just of Twilight either, but lots of others as well (my other fave fanfic fandom is Titanic) anything else you want to know, just ask me!




http://www.twitter.com/elektralane <---My twitter. come join me :)



[
Report This
]
Seasons Of Love (One-Shot)
by
ElektraLane
Rated:
PG
[
Reviews
-
2
]
Summary:
Banner by FrozenSoldier! Thank you!
Emmett and Rosalie finally have a baby after being married for 10 years. Rosalie is a vain and selfish person by her own definition. Will having a child born with a severe birth defect change her outtake on life and herself? Will Emmett be able to cope along with Rose and bring them closer together? Join Rosalie and Emmett McCarty as they take on one of life's hardest challenges a parent can face.
Categories:
AU-Human
Characters:
Alice
,
Bella
,
Edward
,
Emmett
,
Other Character
,
Rosalie
Challenges:
Series:
Emmett Stories
Chapters:
1
Completed:
Yes
Word count:
3308
[Report This] Published:
August 30, 2011
Updated:
September 23, 2011
From Now To Eternity
by
ElektraLane
Rated:
G
[
Reviews
-
5
]
Summary:
This is the story of Renesmee Cullen and Jacob Black's wedding Day. Who is the one that will perform their ceremony? Will it be a suprise for Jacob or Renesmee? Who is in the wedding party and the suprise groomsman?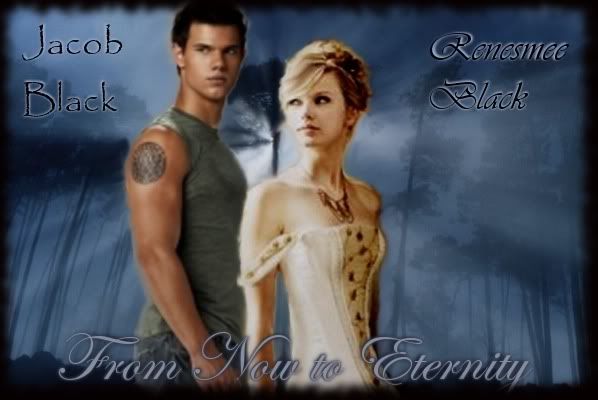 Thanks a bunch to my friend Tammy at the Lex for this FANTASTIC bannner!
Categories:
Post-Breaking Dawn
Characters:
Alice
,
Bella
,
Billy
,
Carlisle
,
Edward
,
Embry
,
Emmett
,
Esme
,
Jacob
,
Jasper
,
Kate
,
Quil
,
Renesmee
,
Rosalie
,
Seth
Challenges:
Series:
None
Chapters:
1
Completed:
Yes
Word count:
1746
[Report This] Published:
May 30, 2010
Updated:
June 24, 2010
---



© 2008, 2009 Twilighted Enterprises, LLC. All Rights Reserved.
Unauthorized duplication is a violation of applicable laws.
Privacy Policy | Terms of Service


All publicly recognizable characters, settings, etc. are the intellectual property of their respective owners. The original characters and plot are the property of Stephenie Meyer. No copyright infringement is intended.