Your donations help keep this site running,
thank you very much for the support!

Penname:
Jadiona [
Contact
]
Real name:
Jadiona Rogue Noish Smith
Status:
Member
Member Since:
March 16, 2010
Website:
http://anewrebirth.blogspot.com/
Beta-reader:
No



I decided it was time to face reality and get rid of the long stories I had on here. I did that because they honestly weren't good, and I know that. I've decided it's time to post the facts. Almost 5 years ago someone really close to me died. That person was basically my Muse. Without that person in my life I've mostly stopped writing. I still get strokes of passion once and awhile, but it's rare.




As a result I won't be posting much anymore. I'll still post an occasional one-shot. Not necessarily for Twilight but it might be, as I am still very in to Twilight. I may also eventually edit and add on to the complete stories that I removed and repost them, as well as finish stories I never completed and repost them. But that's still years out if I ever do that.




As for the one-shots still up, they are raw. Un-edited and un-beta'd. Ultimately, I write for the fun of it. Not for perfection.




---




"Not me, me I like to keep the things I love close. Hold them in a death grip and never let them go."
--- Detective Jo Rosati, Rookie Blue



[
Report This
]
Esme's Fate - One Shot
by
Jadiona
Rated:
PG
[
Reviews
-
1
]
Summary:
Just a one shot in Esme's perspective of right after her son died and she decided on suicide.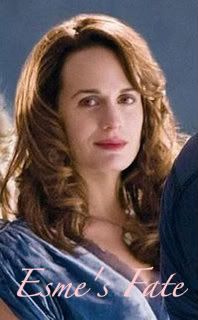 Categories:
Pre-Twilight
Characters:
Esme
Challenges:
Series:
None
Chapters:
1
Completed:
Yes
Word count:
517
[Report This] Published:
March 16, 2010
Updated:
March 24, 2010
---



© 2008, 2009 Twilighted Enterprises, LLC. All Rights Reserved.
Unauthorized duplication is a violation of applicable laws.
Privacy Policy | Terms of Service


All publicly recognizable characters, settings, etc. are the intellectual property of their respective owners. The original characters and plot are the property of Stephenie Meyer. No copyright infringement is intended.