Your donations help keep this site running,
thank you very much for the support!

Penname:
lexiecullen17 [
Contact
]
Real name:
charlotte
Status:
Member
Member Since:
February 06, 2009
Website:
Beta-reader:
I am a 22 year old aspiring screenwriter living in Los Angeles. I just do the fan fic thing for fun (also, it's addicting).




http://www.fanfiction.net/~lexiecullen17



[
Report This
]
The Longest Summer
by
lexiecullen17
Rated:
NC-17
[
Reviews
-
1121
]
Summary: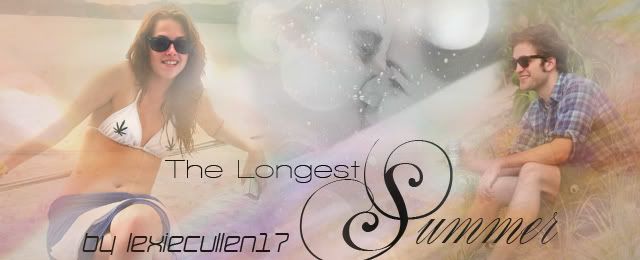 Bella wants Edward...the only problem is, he's a counselor at her summer camp. And although Bella has always been one of Edward's favorite campers, that's all she'll ever be to him...right? When Bella returns as a counselor, can she change his mind?
Rated NC-17 for a whole slew of badly behaved, promiscuous, and foul-mouthed characters. Not your typical love story. Don't say I didn't warn you.
Thanks to EvilAngel67 and CassieWH for their fab banners :) ILY guys
Categories:
AU-Human
Characters:
Alice
,
Bella
,
Edward
,
Emmett
,
Jacob
,
Jasper
,
Rosalie
,
Seth
Challenges:
Series:
Always Human
Chapters:
30
Completed:
Yes
Word count:
223215
[Report This] Published:
September 24, 2009
Updated:
November 10, 2010
Off Limits
by
lexiecullen17
Rated:
NC-17
[
Reviews
-
3312
]
Summary:
Womanizing Edward is in a cover band with his brother and best friend, who are pissed that Edward has managed to send their last three lead singers heading for the hills with his tendency to fool around carelessly. Emmett and Jasper decide to create a "no intra-band dating" rule.
But what happens when a gorgeous, talented brunette walks into the audition? Will Edward adhere to his bandmates' new rule, or will he pursue what's now off limits? OOC Edward/Bella. Rated for DIRTY HUMOR and lots of future LEMONY GOODNESS. Canon pairings.
(thanks to Evilangel6714 for the banner!!!)
Categories:
AU-Human
Characters:
Alice
,
Bella
,
Edward
,
Emmett
,
Jasper
,
Rosalie
Challenges:
Series:
Always Human
Chapters:
34
Completed:
Yes
Word count:
171702
[Report This] Published:
April 11, 2009
Updated:
April 11, 2010
---



© 2008, 2009 Twilighted Enterprises, LLC. All Rights Reserved.
Unauthorized duplication is a violation of applicable laws.
Privacy Policy | Terms of Service


All publicly recognizable characters, settings, etc. are the intellectual property of their respective owners. The original characters and plot are the property of Stephenie Meyer. No copyright infringement is intended.