Your donations help keep this site running,
thank you very much for the support!

Penname:
rockintheoc [
Contact
]
Real name:
Status:
Member
Member Since:
February 02, 2009
Website:
http://infamyous.blogspot.com/
Beta-reader:
No
24 y/o music-obsessed Twilight fan, currently in medical school.




Favorite Bands (past and current): The Cure, Depeche Mode, Duran Duran, The Killers, New Order, Death Cab, Something Corporate, Linkin Park, Oasis, Incubus, Cobra Starship, Muse, Carolina Liar, The Police, MGMT, The Pixies.




Favorite Books: Pride & Prejudice, Wuthering Heights (you can see how I like the Twilight books), Twilight Saga, Sex Drugs and Cocoa Puffs, Crime and Punishment, Gossip Girl series(yeah, I know).




I think that says enough about me, I hope you enjoy my stories!









[
Report This
]
Flight 5107
by
rockintheoc
Rated:
NC-17
[
Reviews
-
297
]
Summary: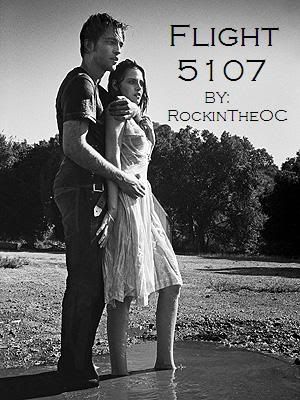 A chance encounter on an ill-fated flight brings two unlikely strangers together in a fight for survival against the elements and against themselves. Faced with the cruelty of fate, will Edward be able to save Bella, or will he give in to his base desire and drink her blood? B/E, AU
Preview Chapter 8:
His eyes were now sinister and dark. He was leaning down by my shins, holding them close to his head. It felt good to have his cold breath against my heated skin. He was kissing my leg and I vaguely put two and two together. He was why my body was feeling so strange. The smile that played on my lips when I first saw him quickly disappeared. The pain. What was that? It felt like a vacuum had latched on and was stealing the wind from my lungs, the beats from my heart, the acid from my stomach. I was being robbed of life.

His eyes quickly flickered over mine, but he must not have liked what he saw, as he clenched his eyes shut quickly. His face was abnormally calm for someone who was slowing killing me, but I loved it anyway.
NC-17 for dark themes, language, and adult content in later chapters
Categories:
AU
Characters:
Bella
,
Edward
Challenges:
Series:
None
Chapters:
10
Completed:
No
Word count:
44038
[Report This] Published:
February 26, 2009
Updated:
November 01, 2009
---



© 2008, 2009 Twilighted Enterprises, LLC. All Rights Reserved.
Unauthorized duplication is a violation of applicable laws.
Privacy Policy | Terms of Service


All publicly recognizable characters, settings, etc. are the intellectual property of their respective owners. The original characters and plot are the property of Stephenie Meyer. No copyright infringement is intended.