Your donations help keep this site running,
thank you very much for the support!

Penname:
read_all_over [
Contact
]
Real name:
Sophie
Status:
Member
Member Since:
January 27, 2009
Website:
http://www.fanfiction.net/u/1974944/
Beta-reader:
I'm 20, English and in my last year at university doing a degree in Creative Writing. Funnily enough, however, that means I don't have as much time to write fan fics as you'd think it would. I'll do my best to always finish what I have started though, so you don't need to worry about abandoned fics half way through.




Just so you know, constructive critism is gladly recieved! I'm always trying to improve, so if you wish, you could be the one to help me do that. : )



[
Report This
]
The Invisible Predator
by
read_all_over
Rated:
NC-17
[
Reviews
-
123
]
Summary:
SEQUEL TO 'DANCING WITH DEATH'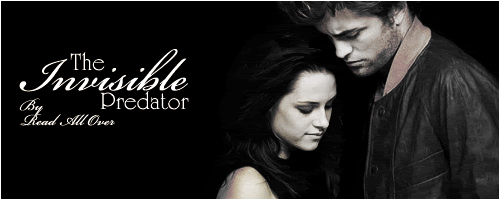 "But that was the joke. I was invisible. No one could neither see, nor hear me, if I didn't want them to. It just so happened, however, that I wanted nothing less from Bella. I wanted her to see me, just not yet."
Do you ever get that tingling sentation going down the back of your spine? Making you feel paranoid, like there's someone watching you? The type that makes your heart rate quicken, your lungs stop working and makes you turn around quickly only to find that there's no one there? Well.... what if your pulse pounds, your breath hitches and your hair stands on end because there is someone there? What if you just can't see him? What if the predator lurking in the shadows was, in fact, invisible? What then?
Well, Bella, in the wake of everything else that's been happening to her, is about to find out.....
*WARNING: CONTAINS DARK THEMES*
Categories:
Post-Breaking Dawn
Characters:
Alice
,
Bella
,
Carlisle
,
Charlie
,
Edward
,
Emmett
,
Esme
,
Jacob
,
Jasper
,
Other Character
,
Renesmee
,
Rosalie
Challenges:
Series:
None
Chapters:
7
Completed:
No
Word count:
44351
[Report This] Published:
June 30, 2009
Updated:
January 18, 2010
Dancing With Death
by
read_all_over
Rated:
R
[
Reviews
-
195
]
Summary:
Alice and Rosalie persuades Bella to go for an innocent night out dancing at a new club in Seattle.... well that's what they thought they'd be doing anyway. What happens when the sirens start and the light turns red? And how will Bella cope with not just being an average looking human any more on her first night out?.... well I guess you'll just have to read to find out.
Written in Bella's POV.
Categories:
Post-Breaking Dawn
Characters:
Alice
,
Bella
,
Carlisle
,
Edward
,
Emmett
,
Jasper
,
Other Character
,
Renesmee
,
Rosalie
Challenges:
Series:
None
Chapters:
5
Completed:
Yes
Word count:
19680
[Report This] Published:
February 15, 2009
Updated:
March 26, 2009
---



© 2008, 2009 Twilighted Enterprises, LLC. All Rights Reserved.
Unauthorized duplication is a violation of applicable laws.
Privacy Policy | Terms of Service


All publicly recognizable characters, settings, etc. are the intellectual property of their respective owners. The original characters and plot are the property of Stephenie Meyer. No copyright infringement is intended.