Your donations help keep this site running,
thank you very much for the support!

Penname:
HappyCranberry [
Contact
]
Real name:
Status:
Member
Member Since:
February 16, 2010
Website:
Beta-reader:
Writer of fanfiction and original novels, fine tea enthusiast, compulsive baker of cookies, and obviously a huge fan of cranberry juice, which is what I was drinking when I came up with my screenname.




Happy reading!



[
Report This
]
Constellation
by
HappyCranberry
Rated:
PG-13
[
Reviews
-
217
]
Summary: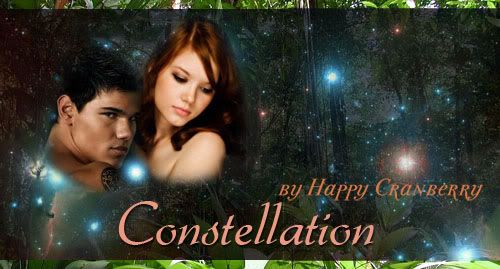 Renesmee Cullen is sixteen years old, and starting high school for the first time in Rochester, New York. The Cullens (plus their favorite werewolf) have moved away from Forks. But their quiet forever after is complicated by the rising romantic tension between Nessie and Jacob, and a sinister puzzle that could have implications for the entire vampire world.
Canon-compliant sequel to Breaking Dawn.
Categories:
Post-Breaking Dawn
Characters:
Alice
,
Bella
,
Edward
,
Jacob
,
Renesmee
Challenges:
Series:
Imprint Me: The Jacob and Nessie Archives
Chapters:
25
Completed:
Yes
Word count:
89552
[Report This] Published:
February 16, 2010
Updated:
July 26, 2011
---



© 2008, 2009 Twilighted Enterprises, LLC. All Rights Reserved.
Unauthorized duplication is a violation of applicable laws.
Privacy Policy | Terms of Service


All publicly recognizable characters, settings, etc. are the intellectual property of their respective owners. The original characters and plot are the property of Stephenie Meyer. No copyright infringement is intended.