Your donations help keep this site running,
thank you very much for the support!

Penname:
forbidden bliss [
Contact
]
Real name:
J
Status:
Member
Member Since:
January 19, 2009
Website:
http://www.fanfiction.net/~forbiddenbliss
Beta-reader:
No
La ignorancia es atrevida.
Ignorance is courageous.




I am most likely the most sarcastic person you'll ever talk to. My dad jokes that I sold my soul to the devil to make room for all the sarcasm. He's probably right.




I write for fun, so don't knock my stories. I just hope you all enjoy reading them as much as I enjoy writing them. :)




An english professor wrote the words: "A woman without her man is nothing" on the chalkboard and asked his students to punctuate it correctly. All of the males in the class wrote: "A woman, without her man, is nothing". All the females wrote: "A woman, without her, man is nothing."




Punctuation is powerful.



[
Report This
]
Nine Months
by
forbidden bliss
Rated:
NC-17
[
Reviews
-
159
]
Summary:
"She's having a baby; I'm having a breakdown."
For them, it was love at first fight. Edward and Bella can't seem to get along—even when their lives get thrown together and then torn apart. Can they survive it all or will they end up killing each other? M for dirty talking, swearing, and misbehaving.
Categories:
AU-Human
Characters:
Bella
,
Edward
Challenges:
Series:
None
Chapters:
4
Completed:
No
Word count:
23277
[Report This] Published:
May 14, 2009
Updated:
October 13, 2009
Sinful in Seattle
by
forbidden bliss
Rated:
NC-17
[
Reviews
-
413
]
Summary:
One night changed everything; They met by chance, shared a night of passion, and now have to learn that being friends is harder than it seems. Like they say, fate has a cruel sense of humor. E/B--ALL HUMAN. (No religion)
"Forgive me Father, for I have sinned. And I plan on doing again very, very soon. Oh, the games that we will play...Let them begin."
"We are compelled to do what is forbidden."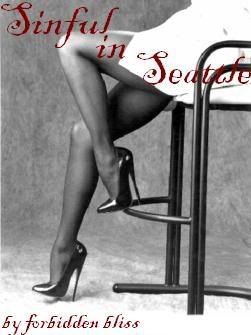 Categories:
AU-Human
Characters:
Bella
,
Edward
Challenges:
Series:
None
Chapters:
10
Completed:
No
Word count:
82751
[Report This] Published:
January 19, 2009
Updated:
September 09, 2009
---



© 2008, 2009 Twilighted Enterprises, LLC. All Rights Reserved.
Unauthorized duplication is a violation of applicable laws.
Privacy Policy | Terms of Service


All publicly recognizable characters, settings, etc. are the intellectual property of their respective owners. The original characters and plot are the property of Stephenie Meyer. No copyright infringement is intended.