Your donations help keep this site running,
thank you very much for the support!

Penname:
Sonia Mari [
Contact
]
Real name:
Sonia
Status:
Member
Member Since:
January 14, 2009
Website:
Beta-reader:
Mom 4x
Love Twilight, love writing
Live outside of Atlanta, GA
Pretty new to fanfiction, but already love it too <3 Both reading and writing it.
Have met a lot of awesome people by doing so.
Hate profiles w/ a passion - I never really know what to write...
Wanna know somethin' else? Feel free to ask.



[
Report This
]
Prey For Protection
by
Sonia Mari
Rated:
NC-17
[
Reviews
-
484
]
Summary: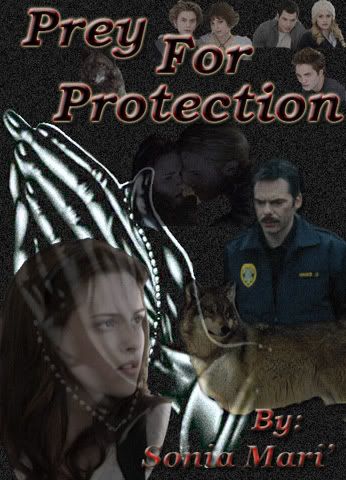 ---

For as long as she could remember James had always been an important part of her life. They'd met in grade school and quickly became the best of friends. In junior high they started dating and Bella thought they would be together forever.
James' life is turned upside down and the next thing Bella knows she's being forced to leave her home and her mother in an attempt to get away from the last person she'd ever thought she'd run from.
She escapes to Forks, WA, a small town on the Olympic peninsula where her father is the chief of police. As the danger draws nearer Chief Swan realizes that he alone may not be able to keep his only daughter safe. So he turns to an unlikely place for help. What happens when he puts his precious only child in the protection of predators?
Categories:
AU
Characters:
Alice
,
Bella
,
Charlie
,
Edward
,
Emmett
,
James
,
Jasper
,
Rosalie
Challenges:
Series:
None
Chapters:
16
Completed:
No
Word count:
84384
[Report This] Published:
April 02, 2009
Updated:
September 06, 2009
---



© 2008, 2009 Twilighted Enterprises, LLC. All Rights Reserved.
Unauthorized duplication is a violation of applicable laws.
Privacy Policy | Terms of Service


All publicly recognizable characters, settings, etc. are the intellectual property of their respective owners. The original characters and plot are the property of Stephenie Meyer. No copyright infringement is intended.