Your donations help keep this site running,
thank you very much for the support!

Penname:
Cerena [
Contact
]
Real name:
Status:
Member
Member Since:
December 06, 2009
Website:
Beta-reader:
Yes



The best part of my sciency grad school life is being paid to sit around and write up random ideas. The worst part is not being allowed to minor in English. Somehow, I've solved this problem with a sudden, intense TwiFic addiction.




I'm often told that my writing style is unique, sometimes in a good way and sometimes in a whatthehellareyousmoking way. It's the best feeling in the world when my weirdness speaks to people, which is why I'm way too excited to announce that my story Drink Me is araeo's Judge's Pick in the Plot Bunny Contest!! Click here and scroll down through the blog entry to read her rec :)




I also have an account on ffn.net, but my penname there is KCerena. Sorry for the inconsistency, but it doesn't appear possible to change one's Twilighted alias :(




I recently wrote up Wild at Heart by silveraure on the Little Known Ficster. You can check out the review here.




Curious about the nerdy behind Latent Prints? Read my <a href=http://www.thetwilightawards.com/2010/09/under-radar-latent-prints-by-kcerena.html>Under the Radar</a> pitch.



[
Report This
]
Latent Prints
by
Cerena
Rated:
R
[
Reviews
-
50
]
Summary:
Six-year-old Nessie has led a life so sheltered that her first day of high school is cause for giddiness, her rapid aging so far having kept her confined to her family circle. But just when she's starting to worry that her strangeness will keep her cloistered up forever, she witnesses a tragic event and starts to accumulate life experience fast. The event forces Leah to come home from a stint as a ranger up in the Yukon, and she and Nessie click as freaks who wish they could be more normal. Their mutual understanding quickly starts evolving into something more, but the problem is that each considers Jake to be her best and oldest friend. Nessie knows that Jake is powerfully attached to her, though she doesn't know just how powerfully, and neither she nor Leah knows how to keep him from getting badly hurt.
Categories:
Post-Breaking Dawn
Characters:
Angela
,
Bella
,
Edward
,
Jacob
,
Leah
,
Nessie
,
Renesmee
Challenges:
Series:
Leah in Love
Chapters:
18
Completed:
Yes
Word count:
82995
[Report This] Published:
February 15, 2010
Updated:
October 25, 2010
Northern Lights
by
Cerena
Rated:
R
[
Reviews
-
19
]
Summary:
After Jasper snaps at Bella, his intense guilt strains his relationship with Alice. They drift apart for months as Alice searches for remnants of her human life. The crisis surrounding Alice's trip to Italy is what eventually forces both of them to confront the demons of their past.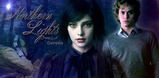 Thank you to Frozen Soldier, manager of the A/J fic archive, for this lovely banner!
Categories:
New Moon
Characters:
Alice
,
Bella
,
Carlisle
,
Carmen
,
Edward
,
Eleazar
,
Emmett
,
Esme
,
Irina
,
Jasper
,
Kate
,
Rosalie
,
Tanya
Challenges:
Series:
Eternal Hope: The Alice and Jasper Archive
Chapters:
6
Completed:
Yes
Word count:
10911
[Report This] Published:
January 13, 2010
Updated:
March 23, 2010
Summary:
Bella moves to Forks after college and is strangely attracted to a man she sees in church.
Categories:
AU-Human
Characters:
Bella
,
Carlisle
,
Edward
,
Renee
,
Rosalie
Challenges:
Series:
None
Chapters:
1
Completed:
No
Word count:
2068
[Report This] Published:
January 13, 2010
Updated:
January 23, 2010
---



© 2008, 2009 Twilighted Enterprises, LLC. All Rights Reserved.
Unauthorized duplication is a violation of applicable laws.
Privacy Policy | Terms of Service


All publicly recognizable characters, settings, etc. are the intellectual property of their respective owners. The original characters and plot are the property of Stephenie Meyer. No copyright infringement is intended.