Your donations help keep this site running,
thank you very much for the support!

Penname:
eyes of topaz [
Contact
]
Real name:
Tami Madore
Status:
Member
Member Since:
September 06, 2009
Website:
http://www.fanfiction.net/~eyesoftopaz
Beta-reader:
No
I am a 39 year-old married Canuck girl, with a steady job, 2 cats, 2 dogs and no kids. My hubby is kid enough but I am lucky that way as it allows me to take pleasure in my hobbies with little or no guilt! We live just outside of Ottawa Canada in the country. Edward and family would be welcome to visit as there is lots of wildlife to sustain their vegetarian diet!!




In case you have not guessed...I am obsessed with anything and everything Twilight. I have enjoyed lurking here immensely reading some of the wonderful stories posted and I only recently decided to post one of my own. A Different Kind of Moon is my first attempt at FanFic, although I have written original stuff for my own enjoyment since I was in highschool. ADKM is definitely a work in progress and I would be totally lost without my wonderful beta, ChangedbyEdward, and the support of the other wonderful friends I have made through the fanfic world!



[
Report This
]
Careful What You Wish For!
by
eyes of topaz
Rated:
NC-17
[
Reviews
-
192
]
Summary:
SEQUEL TO A Different Kind of Moon. Fifteen years have passed since the fateful day that Angela Cullen (formerly Weber) was turned. Follow her story as she recounts her adjustments to her new life as a vampire as well as becoming the newest member of the Cullen clan. How does she really feel about her new life? Her family? What does she want to do with the eternity that now lays before her? Did Edward and Bella find their happily ever after? Will Angela find love? All this and more will be answered in Careful What You Wish For!
Many thanks to JustBiteMePlease for my awesome banner!!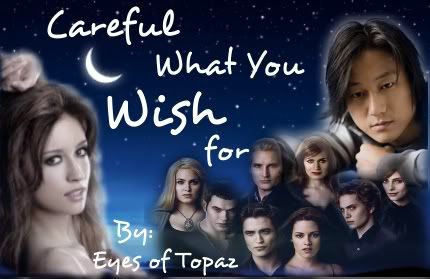 Categories:
New Moon
,
AU
Characters:
Alice
,
Angela
,
Bella
,
Carlisle
,
Edward
,
Emmett
,
Esme
,
Jasper
,
Rosalie
Challenges:
Series:
None
Chapters:
24
Completed:
No
Word count:
56581
[Report This] Published:
July 30, 2010
Updated:
February 24, 2013
A Different Kind of Moon
by
eyes of topaz
Rated:
NC-17
[
Reviews
-
951
]
Summary:
The story begins six months after Edward left Bella in the forest, but unfortunately things have taken a darker turn than our beloved SM wrote. This is the tale of how Edward and Bella eventually find their way back to each other, although it is a difficult road traveled. There will not be any reference to the events in Eclipse or BD.
Categories:
New Moon
,
AU
Characters:
Alice
,
Bella
,
Carlisle
,
Charlie
,
Edward
,
Emmett
,
Esme
,
Jacob
,
Jasper
,
Mike
,
Rosalie
,
Victoria
Challenges:
Series:
None
Chapters:
39
Completed:
Yes
Word count:
94579
[Report This] Published:
January 06, 2010
Updated:
July 11, 2010
---



© 2008, 2009 Twilighted Enterprises, LLC. All Rights Reserved.
Unauthorized duplication is a violation of applicable laws.
Privacy Policy | Terms of Service


All publicly recognizable characters, settings, etc. are the intellectual property of their respective owners. The original characters and plot are the property of Stephenie Meyer. No copyright infringement is intended.