Your donations help keep this site running,
thank you very much for the support!

Penname:
Ready4Jasper [
Contact
]
Real name:
Susan
Status:
Member
Member Since:
April 04, 2009
Website:
Beta-reader:


[
Report This
]
Extraction
by
Ready4Jasper
Rated:
NC-17
[
Reviews
-
926
]
Summary:
When Bella's unit is ambushed in the jungle and she is taken captive, an elite team is sent in to save her. As events unfold, Bella finds herself caught in the web of this mysterious team made up of elite, and unique, people. Things become even more interesting when she discovers that the leader of this group is a man she thought had dissapeared forever.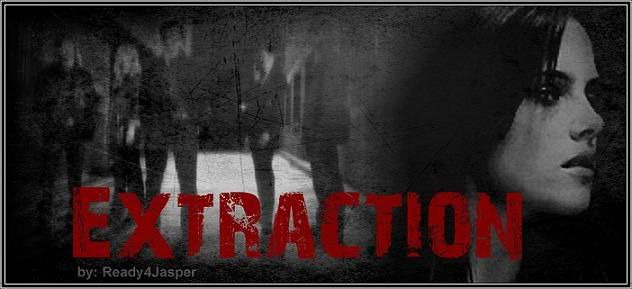 Props to Annamorphos for her awesome banner making skills!
Categories:
AU-Human
Characters:
Bella
,
Edward
Challenges:
Series:
None
Chapters:
25
Completed:
No
Word count:
124260
[Report This] Published:
July 19, 2009
Updated:
October 06, 2010
---



© 2008, 2009 Twilighted Enterprises, LLC. All Rights Reserved.
Unauthorized duplication is a violation of applicable laws.
Privacy Policy | Terms of Service


All publicly recognizable characters, settings, etc. are the intellectual property of their respective owners. The original characters and plot are the property of Stephenie Meyer. No copyright infringement is intended.