Your donations help keep this site running,
thank you very much for the support!

Penname:
cassandralee [
Contact
]
Real name:
Cassandra
Status:
Member
Member Since:
September 09, 2008
Website:
Beta-reader:
No


[
Report This
]
Edward & Isabella
by
cassandralee
Rated:
NC-17
[
Reviews
-
50
]
Summary:
This is a story of Edward and Isabella. They meet at a party it's truly love at first sight. All to late do they realize they come from feuding families. They come up with a plan to end the feud so they can be free to love each other, but the plan is thwarted by tragedy. Very loosely based on William Shakespeare Romeo and Juliet.
Thank you Readergoof for the lovely banner!!!!
Categories:
AU-Human
Characters:
Bella
Challenges:
Series:
None
Chapters:
4
Completed:
No
Word count:
10820
[Report This] Published:
August 12, 2009
Updated:
January 11, 2010
Charlie Don't Preach(one-shot)
by
cassandralee
Rated:
R
[
Reviews
-
13
]
Summary:
For the NaughtHeels Contest of I love the 80's.
Bella and Edward face the wrath of Charlie when they find themselves in some trouble. My music inspiration: Papa Don't Preach by Madonna
Thanks readergoof for the banner!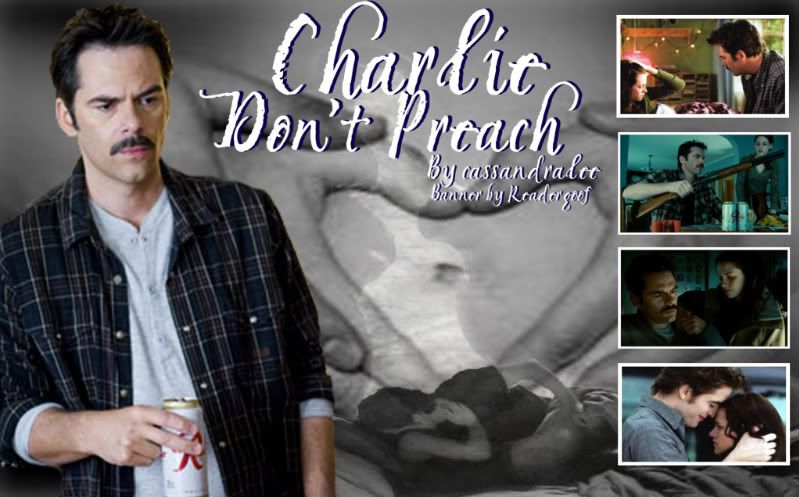 Categories:
AU-Human
Characters:
None
Challenges:
Series:
None
Chapters:
1
Completed:
Yes
Word count:
3420
[Report This] Published:
January 02, 2010
Updated:
January 04, 2010
---



© 2008, 2009 Twilighted Enterprises, LLC. All Rights Reserved.
Unauthorized duplication is a violation of applicable laws.
Privacy Policy | Terms of Service


All publicly recognizable characters, settings, etc. are the intellectual property of their respective owners. The original characters and plot are the property of Stephenie Meyer. No copyright infringement is intended.