Your donations help keep this site running,
thank you very much for the support!

Harvest Moon
by
JanaOnWheels
Rated:
PG-13
[
Reviews
-
608
]
Summary:

The first few months after the change were always the most difficult. Instincts rule over rationality. Since raging thirst is never far from a newborn's mind, it often makes for careless choices.
The girl would need supervision. A patient teacher to guide her and keep her out of trouble. I didn't just feel obligated to fill this role, I yearned to fill it.
*Nominated for a Vampies Award, in the category: Bloody Newborn - best characterization of a newborn vampire. (It didn't win, but it was an honor being nominated. Thank you.)
Categories:
Twilight
,
AU
Characters:
Bella
,
Edward
Challenges:
Series:
None
Chapters:
23
Completed:
No
Word count:
79936
[Report This] Published:
October 14, 2010
Updated:
October 14, 2011
Two Weeks
by
JanaOnWheels
Rated:
PG-13
[
Reviews
-
409
]
Summary: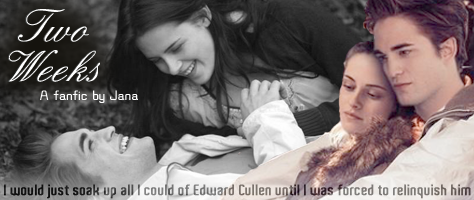 Waylon Forge was dead, my parents were leaving town to tend to the funeral, and I was being shipped off to stay with the Cullens for two weeks. Residing with the most reclusive family on the west coast was bound to be an experience I'd never forget.
Categories:
Twilight
,
AU
Characters:
Bella
,
Edward
Challenges:
Series:
None
Chapters:
37
Completed:
Yes
Word count:
146924
[Report This] Published:
June 24, 2010
Updated:
October 14, 2010
---



© 2008, 2009 Twilighted Enterprises, LLC. All Rights Reserved.
Unauthorized duplication is a violation of applicable laws.
Privacy Policy | Terms of Service


All publicly recognizable characters, settings, etc. are the intellectual property of their respective owners. The original characters and plot are the property of Stephenie Meyer. No copyright infringement is intended.