Your donations help keep this site running,
thank you very much for the support!

Penname:
middlewife [
Contact
]
Real name:
Angela Kellock
Status:
Member
Member Since:
June 18, 2010
Website:
Beta-reader:
No
I am in my early forties, have been married long enough to deserve a medal, and have three kids . I work as a casleoad midwife (irrelevant, I know, but my job is my 'ligit' passion).




Twilight was like an epiphany for me. I never fancied myself as a fangirl of anything before now, but the older I get, the less I worry about looking weird in the eyes of my teenage sons. I embrace my weirdness now and am aiming for eccentricity in my senior years. Finding fan fiction (thank you, Bower-of-Bliss) made my obsessive reading dreams come true. Instead of letting a story go, I could immerse myself in more and more of it. Heaven! Then little scenes started developing in my head, visions of other things my favorite characters would do, and I just couldn't let these thoughts go.




So, here I am. Deciding to swallow my insecurities, I squelched my natural inclination towards procrastination and made a start writing my own stories. Thanks to twilight, I have the opportunity to fulfill another of my fantasies, some of which I can now actually talk about in public.



[
Report This
]
Through a Glass, Darkly
by
middlewife
Rated:
NC-17
[
Reviews
-
45
]
Summary:
Bella Swan thought being invisible would protect her from the eyes of the world. Instead, it made her an enticing target for a sadistic predator. Can Officer Edward Cullen and his partner protect her from her unknown and persistent assailant?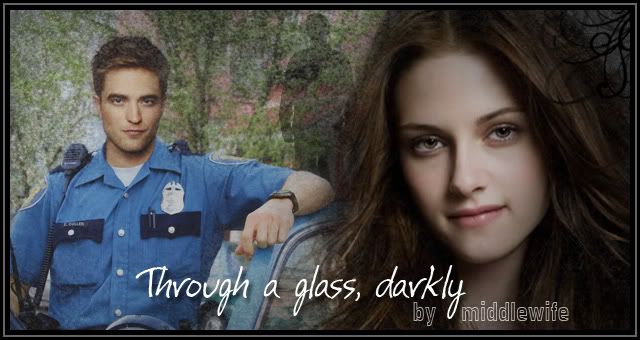 Categories:
AU-Human
Characters:
Edward
Challenges:
Series:
None
Chapters:
5
Completed:
No
Word count:
8243
[Report This] Published:
March 30, 2012
Updated:
August 08, 2012
In Justice
by
middlewife
Rated:
NC-17
[
Reviews
-
12
]
Summary:
Reeling from a sudden and inconceivable loss, Bella Swan struggles to make sense of it. Convinced all is not as it seems, her search for answers uncovers a far darker instability than ever anticipated.
Categories:
AU-Human
Characters:
Bella
Challenges:
Series:
None
Chapters:
8
Completed:
No
Word count:
33196
[Report This] Published:
March 30, 2012
Updated:
August 02, 2012
---



© 2008, 2009 Twilighted Enterprises, LLC. All Rights Reserved.
Unauthorized duplication is a violation of applicable laws.
Privacy Policy | Terms of Service


All publicly recognizable characters, settings, etc. are the intellectual property of their respective owners. The original characters and plot are the property of Stephenie Meyer. No copyright infringement is intended.