Your donations help keep this site running,
thank you very much for the support!

Penname:
hbarbie [
Contact
]
Real name:
Heather
Status:
Member
Member Since:
August 08, 2009
Website:
Beta-reader:


[
Report This
]
Breathe Again
by
Ysar
Rated:
R
[
Reviews
-
5437
]
Summary:
You know those fics where Edward doesn't come back and Bella forgets about him and five seconds later she's in bed with Jacob and none of it makes any damn sense?
Yeah, this isn't one of them.
This story picks up from the moment in New Moon when Jacob has driven Bella home after the cliff diving incident, right before he catches the scent of Alice. Only in this telling, Alice wasn't looking, so there's no sudden appearance at Bella's house, no Rosalie calling Edward and sending him on a suicidal mission to Volterra, and no reason for Bella to do anything but believe that Edward didn't love her anymore. This is simply a story of what might have happened if everyone stayed mostly in character and Edward's return was delayed. Yes, delayed. Because we all know that he was "this close" to coming back on his own anyhow.
So what would have happened if Bella had tried to move on with her life? Would she have found happiness with Jacob? And would Edward be too late?
* First in a series of stories
---
~I thought of Jacob's warm arms wrapped around me, his infectious laughter, and his ability to keep me from falling to pieces again… The pain choking my heart relaxed and I could breathe.~


~"More than anything," I whispered, not caring what I'd just agreed to. When it came to Bella, it didn't matter what the question was. I just wanted.~
Winner of:
Best Author, Most Romantic, Favorite Jacob, Most Suspenseful, & Best WIP in the Wolfpack Awards | Best Non-Canon Pairing (Incomplete) and Best WIP in the Moonlight Awards | Best During the Series in the Razzle Dazzle Awards | The Storyteller Award in the Shimmer Awards | Best JacobxBella in the Silent Tear Awards
Categories:
Twilight
,
New Moon
,
Eclipse
,
AU
Characters:
Bella
,
Jacob
Challenges:
Series:
A Blazing Sun
Chapters:
76
Completed:
No
Word count:
164405
[Report This] Published:
December 07, 2008
Updated:
September 11, 2010
Reviewer:
hbarbie
Signed
Date:
February 22, 2010
Title:
Chapter 70: Honesty: Jacob's POV
I'm sorry I haven't reviewed before now, but I'm in no way a Team Jacob person. I stumbled onto this fic by looking at the top tens lists. I really like reading all the 'what if Alice hadn't seen Bella jump?' scenarios. And even though a large part of me can't stand Jacob, I think you've done an amazing job. So please, please start the sequel because I'm dying to have Edward back; I'm really interested to see how you handle that.
Reviewer:
hbarbie
Signed
Date:
February 22, 2010
Title:
Chapter 72: Normalcy: Jacob's POV
An imprint would be nice. I'm hoping it's Jacob and some random person so that when Edward comes back he'll be out of the picture. lol
The List
by
Laura Cullen
Rated:
NC-17
[
Reviews
-
13645
]
Summary: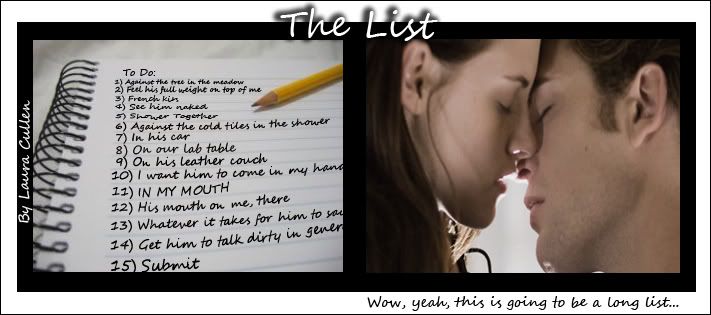 Four weeks before her wedding to Edward, Bella is frustrated. She knows there's little-to-no chance of getting him to bend his rules and boundaries now, but there's no harm in fantasizing about what could happen later. So she begins compiling a list of things that she and Edward can do together once they're happily married. She's surprised to find she might be able to cross some things off earlier than she thought...
Story contains mature themes and is not intended for younger readers.
Thanks to Mandi, aka m81170, for the great banner!
Categories:
Post-Eclipse
Characters:
Alice
,
Bella
,
Carlisle
,
Charlie
,
Edward
,
Emmett
,
Esme
,
Jasper
,
Rosalie
Challenges:
Series:
None
Chapters:
28
Completed:
Yes
Word count:
187877
[Report This] Published:
December 28, 2008
Updated:
March 18, 2010
Reviewer:
hbarbie
Signed
Date:
August 13, 2009
Title:
Chapter 24: Chapter 24: Countdown to a Change
I just started reading this last week and I have to say it is some of the best Twilight fanfiction I've read. I'm not really into the AH or AU. But I do think you've done a great job with showing a different outcome after their marriage. I also think you write extremely well. I'm eagerly awaiting the next chapter, and sorely regretting the end of such a captivating story. It's also given me some ideas in my personal life. *wink*
Reviewer:
hbarbie
Signed
Date:
August 20, 2009
Title:
Chapter 25: Chapter 25: The Book and the Change
Lovely chapter as always. I'm very anxious for the next one. You know there are some things you've done differently with this story that I really like. And some of it I prefer over SMeyer's. Don't hurt me! *crouches under desk* But honestly you've had some really good ideas. I love the book she wrote for him to read; so perfect. And the idea of being bitten while making love and not being a medical experiment is spot on. (Sorry, Carlisle.) Any who, nicely done and keep it coming.
Bella Cullen's Diary
by
sarahjp7
Rated:
PG-13
[
Reviews
-
80
]
Summary:
Exerpt from chapter 5:
"He only had a minute left, if that. I braced myself and drew on every bit of control I had, praying that my self control was not just a choice but a super power. I would need it now. I pictured all the people that loved me and what it would look like to them if I killed this man as I bit down into the pulse of his neck."
Explanation:
Bella begins a diary that starts the morning after Breaking Dawn ends. It includes her reflections of the past two years, Renesmee's birth, her relationship with Edward, finding out about Edward's past, and events that happen in her new life.
I haven't completed this story because a diary is never complete. However, I plan on including specific events of Edward's past as well as the beginnings of the Volturi, and events of other characters lives as Bella continues to get to know them.
I'm trying to stay as true to the Twilight series as possible while filling in the gaps that weren't dealt with in the original series. Most of my information can be traced back to specific events or conversations in the Twilight series as well as interviews that Stephenie Meyer has given concerning these details.
Disclaimer:
I am not Stephenie Meyer and do not own these characters. This is entirely a work of fanfiction and no infringment on copyrights are intended.
Categories:
Post-Breaking Dawn
Characters:
Edward
Challenges:
Series:
None
Chapters:
12
Completed:
No
Word count:
21691
[Report This] Published:
August 18, 2009
Updated:
December 02, 2009
Reviewer:
hbarbie
Signed
Date:
October 15, 2009
Title:
Chapter 8: Chapter 8 Unforgiven
I just found this story recently, and I think it's really well done. Like others have said I think you've done a great job keeping the characters true to their book selves. A lot of stories I've come across change much of the ending of BD so it's nice to read a story that continues from the end of the book. Keep up the great work, and update soon!
---



© 2008, 2009 Twilighted Enterprises, LLC. All Rights Reserved.
Unauthorized duplication is a violation of applicable laws.
Privacy Policy | Terms of Service


All publicly recognizable characters, settings, etc. are the intellectual property of their respective owners. The original characters and plot are the property of Stephenie Meyer. No copyright infringement is intended.