Your donations help keep this site running,
thank you very much for the support!

Penname:
Barbara Johnson [
Contact
]
Real name:
Barbara Johnson
Status:
Member
Member Since:
July 13, 2009
Website:
Beta-reader:
No
My heart may be in Ft. Lauderdale, Cozumel, or other tropical paradise, but my roots are deeply embedded in my central Oklahoma hometown.




I am a single parent with two adult daughters, a terrific son-in-law, twin teenage daughters who keep me going, and two young grandsons whom I adore.




Interests include travel; music; art: oils, acrylics, watercolor; creativity in multiple areas - and, of course, the "Twilight Saga."




I'm currently in my second semester at a local university, focusing on visual and fine arts. Challenging, but rewarding being back in school after many years.



[
Report This
]
Breathe Again
by
Ysar
Rated:
R
[
Reviews
-
5438
]
Summary:
You know those fics where Edward doesn't come back and Bella forgets about him and five seconds later she's in bed with Jacob and none of it makes any damn sense?
Yeah, this isn't one of them.
This story picks up from the moment in New Moon when Jacob has driven Bella home after the cliff diving incident, right before he catches the scent of Alice. Only in this telling, Alice wasn't looking, so there's no sudden appearance at Bella's house, no Rosalie calling Edward and sending him on a suicidal mission to Volterra, and no reason for Bella to do anything but believe that Edward didn't love her anymore. This is simply a story of what might have happened if everyone stayed mostly in character and Edward's return was delayed. Yes, delayed. Because we all know that he was "this close" to coming back on his own anyhow.
So what would have happened if Bella had tried to move on with her life? Would she have found happiness with Jacob? And would Edward be too late?
* First in a series of stories
---
~I thought of Jacob's warm arms wrapped around me, his infectious laughter, and his ability to keep me from falling to pieces again… The pain choking my heart relaxed and I could breathe.~


~"More than anything," I whispered, not caring what I'd just agreed to. When it came to Bella, it didn't matter what the question was. I just wanted.~
Winner of:
Best Author, Most Romantic, Favorite Jacob, Most Suspenseful, & Best WIP in the Wolfpack Awards | Best Non-Canon Pairing (Incomplete) and Best WIP in the Moonlight Awards | Best During the Series in the Razzle Dazzle Awards | The Storyteller Award in the Shimmer Awards | Best JacobxBella in the Silent Tear Awards
Categories:
Twilight
,
New Moon
,
Eclipse
,
AU
Characters:
Bella
,
Jacob
Challenges:
Series:
A Blazing Sun
Chapters:
76
Completed:
No
Word count:
164405
[Report This] Published:
December 07, 2008
Updated:
September 11, 2010
Reviewer:
Barbara Johnson
Signed
Date:
December 29, 2009
Title:
Chapter 1: Dilemma: Bella's POV
You asked readers to say how we found your story. I, too, ended up on a Twilighted top ten list this past summer, so I noticed the Top Tens category yesterday and ckecked to see if the top tens in my category were there. No, we are listed in the Twicon 2009 FanFic category on Twilighted's home pg. (Hey, I have 8 reviews and a 5-star rating! And still in shock.) I happened to see this 'little piece of work' entitled "Breathe Again." It had 3000+ reviews?! Amazing. Being that I've been too busy studying since August (probably the most senior, and I do mean 'senior' student at a local university), I've had no time for enjoyable things. 'Been spending far too much time studying, preparing for finals, single parent of twin teens, etc. I gave myself permission to forget what I needed to be doing and read this story. 'Began reading at 6:30am yesterday, took only small breaks, swore at the phone for ringing, gulped down some semblance of a meal while I read, slept a few hrs., got up at 6:30 again and read until I finished the story today. Typically I don't enjoy reading, although I read the "Twilight Saga" - twice. I'm not quite sure what's happened, but something...maybe those dreams of vampires when I was a teenager a hundred years ago....
While I was reading "Breathe Again," I periodically thought - sometimes aloud - "who IS this person?!" and wondering if you are, in reality, Stephenie Meyer writing under an alternate pen name. The characters were precisely who we've come to know so well, well-structured storylines from one chapter to the next, meticulous attention to detail, punctuation, grammar (a minimum of type-o's), etc. BTW, if you indeed are S. M., thank you for excluding higher level words that virtually no 17 or 18 yr. old ever uses, which is a nice - more realistic, even if our beloved, and not so beloved characters happen to exist in a super-natural realm. And S. M. or not, thank you for not using "moot" and "glowered." If you aren't S. M., you also should be hauling buckets of $$$ to the bank. "Always leave 'em wanting more" is NOT a good thing in this case. I need more of the story - and fast. Withdrawals. Not good. Leaving a review at the end of each page, impossible. The 'NEXT' prompt was all I could see. (Your story needs to become another "Twilight" movie.)
As long as it doesn't interfere with your writing, I am extending an invitation to you to read my measly little 3,000 word, first-attempt-at-ever-writing-anything-story, "Full Moon." Reason being, I connected so well with your style that many times while reading, other than when you were totally surprising the heck out of me, it was if I were writing it myself. You write the way I'd love to write. You wouldn't pick up on that if you should read "Full Moon," in part because of the word limit and abrupt transitions from one event to the next trying to squeeze it all in. I would like to re-write it in as much detail as I need, but doubtful that will happen any time soon. If you were to read a line, get an idea, be inspired in any way to take something of mine, work with it, re-frame it however you choose, I would be honored. 'Not a request, but an intriguing concept, to me at least. Just tell me if you do so I don't miss it! This may be the longest review in the history of Twilighted, and for that I apologize. I just wanted to say these things to someone so deserving. You're wonderfully creative and well-versed. Please write more of your story as quickly as you can effectively do so. In the meantime, I'll be waiting to "Breathe Again."
Best regards,
Barbara Johnson
Reviewer:
Barbara Johnson
Signed
Date:
January 01, 2010
Title:
Chapter 1: Dilemma: Bella's POV
Happy New Year! I trust you're spending it writing! I'm hanging in a state of withdrawals. Do I speak for others?
Author's Response:
Yes, I believe you do. It's probably a good thing that no one knows my real name because I have the feeling they'd be beating my door down right about now! :)
Reviewer:
Barbara Johnson
Signed
Date:
December 31, 2009
Title:
Chapter 72: Normalcy: Jacob's POV
4,000+ reviews now - another almost 1,000 in only a couple of days, incredible, but well-deserved. Apology: in my review I mentioned "a minimum of type-o's." Who cares when it comes to a great story that you've no doubt been knocking out as fast as you could? Not me. I had to re-write the review 4 x's due to some sort of technical foul-up, so in the final effort I failed to add that finding type-o's is what betas are for, although I don't necessarily envy their task. Wanted to clear that up. Just keep writing, ok? And the invitation still stands to read "Full Moon," and size it up for me - just try to remember there was a limit of 3,000 words, and my first time to write anything - ever. Honest, but tactful, ok? Absolutely hooked on "Breathe Again." Awesome talent, you are!
Author's Response:
I actually don't use a beta. I'm so picky about things that spelling and grammar aren't an issue, and even though I tried using betas when I first started out, it was pointless. Some of them just said there was nothing to correct. Some ended up making "corrections" that were grammatically incorrect, and I got tired of cleaning up after them. When it comes down to it, all I really have to be concerned with is my own lack of typing skills, and with spell-check, grammar-check, and a fairly attentive proof-read, I can generally catch the mistakes before posting.
Reviewer:
Barbara Johnson
Signed
Date:
January 03, 2010
Title:
Chapter 72: Normalcy: Jacob's POV
Bella won't be the only one plagued with nightmares if you were to have Edward return, Jacob imprint on Edward, and she is no longer able to have either one of these incredible guys. This is so twisted I almost couldn't bring myself to write it, but the waiting for "more" of your story is almost painful... I'm just wondering why Bella has the kind of luck that would have one amazing hunk drooling over her while a second one is pining away without her. (Soooo not fair!) ...such a super job you've done with Jacob - and you can add me to your list of conversions - ok, not completely converted, but I love your Jacob! Movie - still want a movie! And I still say you need to be making lots of money writing!
Author's Response:
LOL! Thank you! I'll put you on the list of semi-conversions. How about that?
Reviewer:
Barbara Johnson
Signed
Date:
January 05, 2010
Title:
Chapter 1: Dilemma: Bella's POV
Again, thanks for excluding words that virtually no 17 or 18 yr. old ever uses (unless you're EC) (no 'moot' or 'glowered' for ex.), and for keeping the perspective on teenage thought/behavior. Such a work of art - if you're not SM, she needs to collaborate w/you before writing anything in the future, or at the very least her publisher should be groveling at your feet.
Funny how so many ppl assume "Jake" will imprint. They should be aware, "What you fear, you create." - so, people, stop with the Jacob/Imprint thing already! 'Chillax' Instead, we must ask ourselves: if imprinting happens at first sight...who, then, are the possibilities? Wolf>Vampire? Wolf>Wolf? Wolf>Human? Something to ponder whilst we wait...if the past predicts the future, it'll be worth it.
Reviewer:
Barbara Johnson
Signed
Date:
January 09, 2010
Title:
Chapter 73: Distractions: Bella's POV
THANK YOU for getting that heifer, Jessica, out of the story - hopefully for the rest of it. Ha, never having done it to anyone, I'd have to slap 'er just as a moral responsibility to my fellow human beings (and others). You did sooo good!
Flight 5107
by
rockintheoc
Rated:
NC-17
[
Reviews
-
295
]
Summary: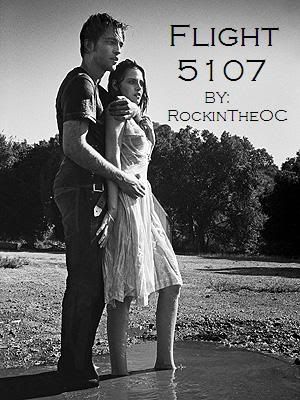 A chance encounter on an ill-fated flight brings two unlikely strangers together in a fight for survival against the elements and against themselves. Faced with the cruelty of fate, will Edward be able to save Bella, or will he give in to his base desire and drink her blood? B/E, AU
Preview Chapter 8:
His eyes were now sinister and dark. He was leaning down by my shins, holding them close to his head. It felt good to have his cold breath against my heated skin. He was kissing my leg and I vaguely put two and two together. He was why my body was feeling so strange. The smile that played on my lips when I first saw him quickly disappeared. The pain. What was that? It felt like a vacuum had latched on and was stealing the wind from my lungs, the beats from my heart, the acid from my stomach. I was being robbed of life.

His eyes quickly flickered over mine, but he must not have liked what he saw, as he clenched his eyes shut quickly. His face was abnormally calm for someone who was slowing killing me, but I loved it anyway.
NC-17 for dark themes, language, and adult content in later chapters
Categories:
AU
Characters:
Bella
,
Edward
Challenges:
Series:
None
Chapters:
10
Completed:
No
Word count:
44038
[Report This] Published:
February 25, 2009
Updated:
October 31, 2009
Reviewer:
Barbara Johnson
Signed
Date:
August 22, 2009
Title:
Chapter 1: Strange and beautiful
When one can leave an audience wanting more, that is a true measure of success. I found myself at the end of your story long before my interest level ran dry. Please, continue writing the story!
You are skilled at pulling a reader into the scene, the thoughts, and the emotions of the characters as if he or she is Edward or Bella, and actually seated on Flight 5107 bound for Australia. Personally, I will be honest about something, and you will hopefully trust my honesty regarding other comments: for Bella to drop the "f-bombs" compromised her integrity more than I was prepared for. And that's the only thing I can critique about your story. I loved it, and as mentioned, want to read the continuation.
I have made a number of attempts to post my story on this site, to no avail so far, but maybe it will one day magically appear. I was a top 10 Finalist in the Twicon 2009 FanFic Competition, and asked to post my story in that category. It's entitled, "Full Moon," and covers the first century of Edward and Bella's life together - in less than 3,000 words. - A bit challenging to keep things flowing smoothly. I welcome you to watch for it from time-to-time to see if it's posted. Please, read, critique, review - whatever suits you.
I would appreciate knowing if you add to "Flight 5107." I'll check periodically. Just keep writing - it's something you do very well.
Best regards,
Barbara Johnson
---



© 2008, 2009 Twilighted Enterprises, LLC. All Rights Reserved.
Unauthorized duplication is a violation of applicable laws.
Privacy Policy | Terms of Service


All publicly recognizable characters, settings, etc. are the intellectual property of their respective owners. The original characters and plot are the property of Stephenie Meyer. No copyright infringement is intended.