Your donations help keep this site running,
thank you very much for the support!

Penname:
Canadamoist [
Contact
]
Real name:
Felicia
Status:
Member
Member Since:
March 10, 2009
Website:
Beta-reader:


[
Report This
]
Breathe Again
by
Ysar
Rated:
R
[
Reviews
-
5438
]
Summary:
You know those fics where Edward doesn't come back and Bella forgets about him and five seconds later she's in bed with Jacob and none of it makes any damn sense?
Yeah, this isn't one of them.
This story picks up from the moment in New Moon when Jacob has driven Bella home after the cliff diving incident, right before he catches the scent of Alice. Only in this telling, Alice wasn't looking, so there's no sudden appearance at Bella's house, no Rosalie calling Edward and sending him on a suicidal mission to Volterra, and no reason for Bella to do anything but believe that Edward didn't love her anymore. This is simply a story of what might have happened if everyone stayed mostly in character and Edward's return was delayed. Yes, delayed. Because we all know that he was "this close" to coming back on his own anyhow.
So what would have happened if Bella had tried to move on with her life? Would she have found happiness with Jacob? And would Edward be too late?
* First in a series of stories
---
~I thought of Jacob's warm arms wrapped around me, his infectious laughter, and his ability to keep me from falling to pieces again… The pain choking my heart relaxed and I could breathe.~


~"More than anything," I whispered, not caring what I'd just agreed to. When it came to Bella, it didn't matter what the question was. I just wanted.~
Winner of:
Best Author, Most Romantic, Favorite Jacob, Most Suspenseful, & Best WIP in the Wolfpack Awards | Best Non-Canon Pairing (Incomplete) and Best WIP in the Moonlight Awards | Best During the Series in the Razzle Dazzle Awards | The Storyteller Award in the Shimmer Awards | Best JacobxBella in the Silent Tear Awards
Categories:
Twilight
,
New Moon
,
Eclipse
,
AU
Characters:
Bella
,
Jacob
Challenges:
Series:
A Blazing Sun
Chapters:
76
Completed:
No
Word count:
164405
[Report This] Published:
December 07, 2008
Updated:
September 11, 2010
Reviewer:
Canadamoist
Signed
Date:
December 26, 2009
Title:
Chapter 70: Honesty: Jacob's POV
I started reading because I wanted a good bella/jacob fic and the whole about her always pouncing on him the second after she did/didnt jump wasn't realistic, plus no one ever really wanted to incorporate that she still did love Edward and I was really hoping for that here, because even after Edward returned she still had this on going struggle of who she truely loved.
Author's Response:
LOL! That's exactly wy I started writing this fic. I couldn't reconcile the Bella I knew with the one everyone had hopping into bed with Jake during the first five minutes. It didn't make sense to me, and I kept seeing it happening so differently in my mind.
Reviewer:
Canadamoist
Signed
Date:
December 26, 2009
Title:
Chapter 1: Dilemma: Bella's POV
Absolutely love Charlie. I really want Bella and Jacob to finally get some alone time instead of all this making out randomly everywhere and getting caught, cant they just have some time for themselves. Can't wait for the update. My guess is Jacob was taking care of a future imprint? who knows.
Night <3
Author's Response:
Thanks so much!
Breakthrough
by
crystalnicoleyo
Rated:
NC-17
[
Reviews
-
342
]
Summary: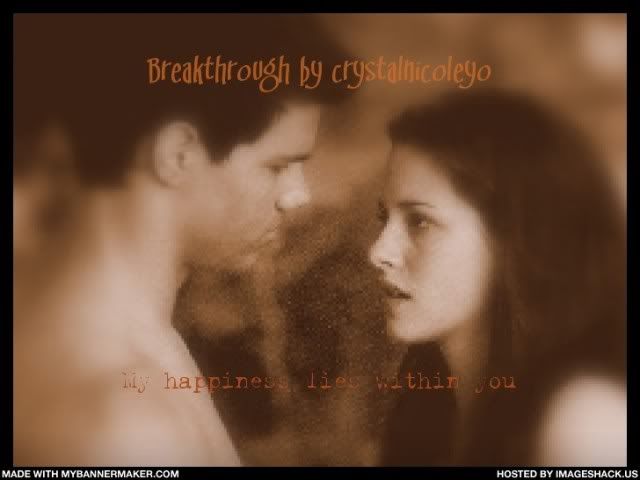 Bella was lost and hopeless when Edward left. Can she find happiness, now that he is not coming back? Will Jacob be able to win her heart? Will Bella be free of the consequences that come from loving a vampire? Will she overcome the obstacles of loving a werewolf?
My story picks up in New Moon. Alice doesn't see Bella jump. Edward is gone. This story is just a feel good love story, with the occasional twist and turn.
Categories:
New Moon
Characters:
Alice
,
Bella
,
Billy
,
Charlie
,
Edward
,
Embry
,
Emily
,
Emmett
,
Irina
,
Jacob
,
Jared
,
Jessica
,
Leah
,
Mike
,
Quil
,
Renee
,
Rosalie
,
Sam
,
Seth
,
Victoria
Challenges:
Series:
None
Chapters:
18
Completed:
No
Word count:
85812
[Report This] Published:
July 22, 2009
Updated:
January 26, 2010
Reviewer:
Canadamoist
Signed
Date:
November 17, 2009
Title:
Chapter 13: Chapter 13: Hopeless
I think this is a really good story. I'm still waiting for Edward to come back to tell Bella that he loves her and throw a whole new curve ball her way, but thats just me personally. I was so happy when Jacob and her made love for the first time!!! Can't wait to read more! Keep writing for my sake haha!

Author's Response:
Thank you for reviewing. This is Jakes story, but I'm not so sure we've seen the last of ole Eddie
On a Lonesome Road
by
valeri29
Rated:
NC-17
[
Reviews
-
506
]
Summary:
Thanks to RavynNightstorm for the fantastic banner.
During her freshman year, Bella Swan's mother forces her to join the Forks High band. Instead of the torture Bella was expecting, she actually meets the five people who will become the best friends of her life. But amid the flirting, jokes, and pranks, something unexpected happens to Bella. She finds herself unable to escape one devastating mistake and fears her life is over forever...at the age of fifteen. AU/AH.
One is not free to make mistakes in a small town like Forks. The tiniest misstep, the smallest indiscretion is fair game for the gossip mill for years. And the mistake I had made was certainly not a small one. I would never be able to escape the shadow of what I had done; and worst of all, absolutely everyone knew about it.
There will be no teen pregnancy or illegal drug use in this story. Anything else that could realistically happen in a high school setting is a possibility.
Finalist for Best Secondary Characterization and Best Action or Drama Story:
Categories:
AU-Human
Characters:
Alice
,
Bella
,
Edward
,
Emmett
,
Jasper
,
Rosalie
Challenges:
Series:
None
Chapters:
32
Completed:
Yes
Word count:
177490
[Report This] Published:
November 09, 2009
Updated:
August 20, 2010
Reviewer:
Canadamoist
Signed
Date:
October 21, 2010
Title:
Chapter 32: Chapter 32 - Epilogue
Amazing story, I couldn't stop reading until I finished. I never hated what you did for a second because it's real life, and real life is not always pretty. Thank you for sharing this story. It touched so closely to home for me that it really captivated all my emotions.
Thanks again! <3
Fantasies
by
Aussiemum1204
Rated:
NC-17
[
Reviews
-
8
]
Summary:
He had paid a great deal of money for her - and he was determined to get his money's worth.
An Alice/Jasper smutty one-shot.
Warning: Very NC-17 - not suitable for under 18's. Strong sexual content
Categories:
AU
,
AU-Human
Characters:
Alice
,
Jasper
Challenges:
Series:
Eternal Hope: The Alice and Jasper Archive
Chapters:
1
Completed:
Yes
Word count:
4168
[Report This] Published:
March 03, 2010
Updated:
March 22, 2010
Reviewer:
Canadamoist
Signed
Date:
March 22, 2010
Title:
Chapter 1: Chapter 1
The twist at the end made it all worth it <3
---



© 2008, 2009 Twilighted Enterprises, LLC. All Rights Reserved.
Unauthorized duplication is a violation of applicable laws.
Privacy Policy | Terms of Service


All publicly recognizable characters, settings, etc. are the intellectual property of their respective owners. The original characters and plot are the property of Stephenie Meyer. No copyright infringement is intended.