Your donations help keep this site running,
thank you very much for the support!

Penname:
lovealways567 [
Contact
]
Real name:
Status:
Member
Member Since:
March 01, 2009
Website:
Beta-reader:
Yes


[
Report This
]
Summary:
What really happened on the return journey back to Forks after Edward and Bella's honeymoon? How did Edward deal with the fact that Bella wanted to keep the baby?
Categories:
Breaking Dawn
Characters:
None
Challenges:
Series:
None
Chapters:
1
Completed:
Yes
Word count:
3517
[Report This] Published:
August 18, 2008
Updated:
August 18, 2008
Reviewer:
lovealways567
Signed
Date:
March 21, 2009
Title:
Chapter 1: Chapter 1
Wow, I have to say, I haven't read a better story that fills in that part of the story than yours. I absolutely love it! I've read other versions, but this is definitely my favorite. Thanks for posting!
Alternate Ending for New Moon
by
Jaxidy Alpha
Rated:
PG
[
Reviews
-
358
]
Summary:
*An explanation for my recent behavior*
So... it's been a while. I'M SO SORRY! I started a new AU-H fic called Primary Colors and it has taken over my fic-writing life. I know you're never supposed to do that. It's not cool to start a new story when you already have one going, it's not fair and people hate it. I'm sorry that I have no self-control, I'm sorry I left you hanging.
The good news is that I AM going to finish this story. I'm not giving it up. I have it mapped out in my head and it's going to happen. I just can't seem to focus on it and my writing really, really, really, sucks when I try to force it. Primary Colors is just pouring out right now, so I'm taking advantage of that. I really am sorry. I've been consumed with guilt over this. I hope you won't hate me, and I hope you'll still be here when I come back. If you delete this fic from your favorites list right now I'll completely understand. Please accept this apology. Thank you so much for reading, have an excellent twilight. :)
It's page 449 of New Moon. Bella is running across the plaza in Italy. She has to get to Edward before the clock chimes. Before the Volturi do. His life depends on it.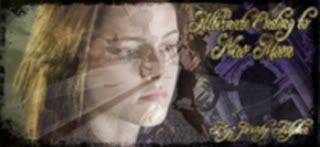 This time Bella stumbles and doesn't get there in time. What will happen to Edward now? Will Alice make it out of Volterra and keep her promise to Jasper? Will Bella be able to survive, thinking she's failed... alone in Volterra?
Thanks to MrsC for the banner!
Categories:
New Moon
Characters:
Alice
,
Aro
,
Bella
,
Carlisle
,
Charlie
,
Demetri
,
Edward
,
Esme
,
Jasper
,
Rosalie
Challenges:
Series:
None
Chapters:
22
Completed:
No
Word count:
38464
[Report This] Published:
September 16, 2008
Updated:
May 10, 2009
Reviewer:
lovealways567
Signed
Date:
May 11, 2009
Title:
Chapter 22: Chapter 22
You rock...Big time! I have to say, I was just as disappointed with Stephenie's ending in New Moon in which Bella gave in so easily. I'm not criticizing Stephenie's writing. She's a brilliant writer, but that part-I don't know. It just didn't resonate with me. Your ending, I absolutely love. Keep writing! I can't wait to read more!
---



© 2008, 2009 Twilighted Enterprises, LLC. All Rights Reserved.
Unauthorized duplication is a violation of applicable laws.
Privacy Policy | Terms of Service


All publicly recognizable characters, settings, etc. are the intellectual property of their respective owners. The original characters and plot are the property of Stephenie Meyer. No copyright infringement is intended.