Your donations help keep this site running,
thank you very much for the support!

Penname:
EmiliaElliot18 [
Contact
]
Real name:
Status:
Member
Member Since:
March 02, 2011
Website:
Beta-reader:
I love reading and I love twilight. So obviously, I'm in love with this website. I hope you all enjoy my stories, and please feel free to message me at anytime. You can also follow me on twitter, EmiliaElliot18



[
Report This
]
Summary:
Edward Cullen was a loner, an outcast. He clearly hated everybody, including himself. He was not a nice person. So, why was I so drawn to him? And why did I get the crazy feeling he felt the same way?

WARNING: This story will deal with the aftermath of child abuse and rape. If that bothers you too much, I strongly recommend that you don't read.


Thanks to steffyxxface for the lovely banner!
Categories:
AU-Human
Characters:
Bella
,
Edward
Challenges:
Series:
None
Chapters:
115
Completed:
Yes
Word count:
365612
[Report This] Published:
November 13, 2009
Updated:
July 06, 2011
Reviewer:
EmiliaElliot18
Signed
Date:
April 19, 2011
Title:
Chapter 103: Chapter 103
It gets better and better with every chapter! Keep up the great work! :)
Broken Angel
by
drotuno
Rated:
NC-17
[
Reviews
-
273
]
Summary: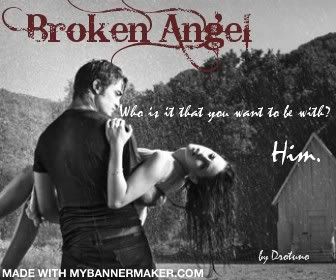 What if Edward didn't come back for 2 years after Bella's birthday incident?  What if Jake wasn't the sweet boy everyone thought he was?  What kind of Bella does Edward return to? 
This is my version of New Moon and after.  Slighty OOC, but canon couples, and some new situations.  This is the first story in the "Angel Series."
Categories:
New Moon
,
AU
Characters:
Alice
,
Bella
,
Carlisle
,
Charlie
,
Edward
,
Emmett
,
Esme
,
Jacob
,
Jasper
,
Rosalie
,
Victoria
Challenges:
Series:
None
Chapters:
16
Completed:
No
Word count:
99270
[Report This] Published:
February 04, 2011
Updated:
August 17, 2011
Reviewer:
EmiliaElliot18
Signed
Date:
April 20, 2011
Title:
Chapter 1: Chapter 1
---



© 2008, 2009 Twilighted Enterprises, LLC. All Rights Reserved.
Unauthorized duplication is a violation of applicable laws.
Privacy Policy | Terms of Service


All publicly recognizable characters, settings, etc. are the intellectual property of their respective owners. The original characters and plot are the property of Stephenie Meyer. No copyright infringement is intended.