Your donations help keep this site running,
thank you very much for the support!

Penname:
His Heroine [
Contact
]
Real name:
Tamara
Status:
Member
Member Since:
April 22, 2010
Website:
Beta-reader:
♥I'm 27, full-time college student studying Criminal Justice. I have no idea where I will go after this lol. I have plans, but am re-considering a few ideas from my past.




I love the Twilight series, moreover the undertone of having a destiny, a soulmate, and a reason: a reason for being here in this place, in this moment, at this time. Essentially-having a purpose. I also loved the love, but could have done without all the angst-but that's what makes the story Twilight, right? Also-I understand reasoning behind the control that Edward exerted on Bella (safety for her), but I in no way support it or agree with it.




And I can't help but to support a series that's not full of sex or too much violence that influences and inspires our children to read!! BRING READING BACK!




To give you an example of how much I enjoy everyones fanfic-I lie in bed at night and stare at my phone reading it until about 2 and sometimes even 4am. You guys have a talent unlike any other and it's inspiring-hence the reason I'm writing on this site and no other :-)




Feel free to send me messages and I'll try to respond as quickly as I can, but please note my studies come first-everything else is secondary hehehe♥



[
Report This
]
Dirty Dancing with the Devil Herself
by
JayJayHale
Rated:
NC-17
[
Reviews
-
7528
]
Summary:
Edward left Bella, forcing his family to stay away from her. Six years onwards, the Cullens are a mess without Bella and Emmett decides to get away from his angry, angst ridden family and let loose. What he finds in the meanest biker bar in Seatle will send shockwaves through his entire family.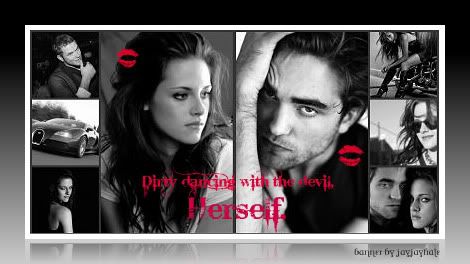 All canon couples!
Categories:
New Moon
Characters:
None
Challenges:
Series:
None
Chapters:
38
Completed:
Yes
Word count:
112765
[Report This] Published:
April 07, 2009
Updated:
December 05, 2009
Reviewer:
His Heroine
Signed
Date:
September 05, 2010
Title:
Chapter 38: Chapter 38:Twilight
You are freaking AWESOME! I'm going to post a link in my own ff to your story. I loved it so much! I laughed so hard at sooo many points that I cried. You rocked my socks chica. I will never forget "Who the hell is Miley Cyrus" and "I don't wanna!"
Crescent Moon
by
Brandinm05
Rated:
PG-13
[
Reviews
-
218
]
Summary:
What if Jacob and the Quileute werewolves never showed up in the meadow that day to save Bella? What if Bella became a vampire and Edward wasn't the one to do it? Bella is turned and forced out of Forks, up North to the Denali clan. New bonds are formed while old ones are nearly broken. Read as Bella adjusts to her new life, and possibly, a new mate. Special lovely thanks to M1187 for my fanstical banner :)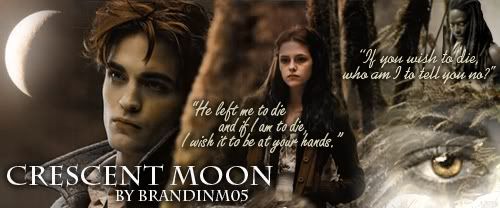 " alt="" />
Playlist for story can be found at:
http://www.youtube.com/view_play_list?p=9BFE9317988CD122
Categories:
New Moon
,
AU
Characters:
Bella
,
Edward
Challenges:
Series:
None
Chapters:
15
Completed:
Yes
Word count:
46381
[Report This] Published:
November 29, 2009
Updated:
July 04, 2010
Reviewer:
His Heroine
Signed
Date:
May 18, 2010
Title:
Chapter 13: Adagio G Minor
Love it! I think the fact that I'm up til 2am sick and reading it speaks to that! Can't wait for the next one :-)
Author's Response:
Well hi there new friend :) Thank you so much for reading and reviewing, and poo on being sick! Make sure you're getting plenty of fluids :) I'm glad you love the story, but sadly enough- it's coming to a close :( I did this as a way for me to escape my reality, but now it's about time for me to dive back in, and so. Thank you for joining us and I hope to see you around :)
---



© 2008, 2009 Twilighted Enterprises, LLC. All Rights Reserved.
Unauthorized duplication is a violation of applicable laws.
Privacy Policy | Terms of Service


All publicly recognizable characters, settings, etc. are the intellectual property of their respective owners. The original characters and plot are the property of Stephenie Meyer. No copyright infringement is intended.