Your donations help keep this site running,
thank you very much for the support!

Penname:
Jane Audrino [
Contact
]
Real name:
Jane
Status:
Member
Member Since:
January 07, 2009
Website:
Beta-reader:
No
I'm a transplanted new yorker. I've lived in the sunshine state for many years. I've built a life here and no matter how much I miss jones beach, the robert moses causeway and the LIE, I'll never move back.




I'm an avid scrapbooker. I love to read, but due to responsibilities, I go through phases. I'll read 10 books back to back over a short time period, then nothing for a few weeks. Some of my favorite authors are Elizabeth George, Nevada Barr, Sue Grafton, Patricia Cornwell, David Balducci, Anne Rice, Nora Roberts, and Janet Chapman. My all time favorite book is The Power of One by Bryce Courtenay. I reread it at least once a year. I also dig the Alex Cross mystery/thrillers.



[
Report This
]
Beautiful, Dirty, Rich
by
Kikiblue
Rated:
NC-17
[
Reviews
-
1626
]
Summary:
One Bet. One Week. No Rules.
Bella bets Edward that after a week of some raw sexcapades he won't want to stop. He bets her otherwise.
A slightly tongue in cheek smutathon and my first fan-fic. Follow Cullen's and Co to see what it means to be Beautiful, Dirty and Rich.
Warning: This story has mature themes from my smutty subconscious. If you don't like words that rhyme with 'duck' and 'grunt' please look elsewhere. You have been warned.
Categories:
AU-Human
Characters:
Alice
,
Bella
,
Carlisle
,
Edward
,
Emmett
,
Esme
,
Jacob
,
Jasper
,
Rosalie
Challenges:
Series:
Always Human
Chapters:
26
Completed:
Yes
Word count:
138439
[Report This] Published:
September 29, 2009
Updated:
September 14, 2010
Visitation
by
radiofreeamy
Rated:
NC-17
[
Reviews
-
552
]
Summary:
AU/Human- What if Edward reacted violently while saving Bella that night in Port Angeles? Can Bella and Edward still find love while Edward is incarcerated?
Rated NC-17 for violence and eventual lemony goodness.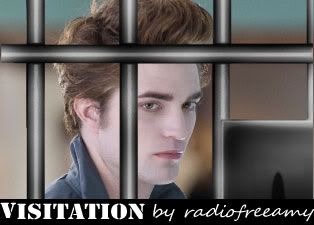 Categories:
AU-Human
Characters:
Bella
,
Edward
Challenges:
Series:
None
Chapters:
16
Completed:
No
Word count:
57400
[Report This] Published:
January 20, 2009
Updated:
February 05, 2010
We the Forgotten
by
FatApolloLove
Rated:
R
[
Reviews
-
318
]
Summary:
Part 2.2 "I couldn't understand Her, couldn't get a handle on the shifts of her moods. One minute She was silent, then She was talking. She was tensed and relaxed. She was curious and disinterested.
"Something She was showing me had to be real, but I couldn't begin to guess what."
Categories:
AU
Characters:
Alice
,
Bella
,
Edward
,
Emmett
,
Jasper
,
Rosalie
Challenges:
Series:
None
Chapters:
13
Completed:
No
Word count:
49848
[Report This] Published:
December 11, 2008
Updated:
May 01, 2009
Wide Awake
by
AngstGoddess003
Rated:
NC-17
[
Reviews
-
189
]
Summary:
Edward and Bella have dark pasts that leave them severely emotionally scarred, with nightmares that force them to stay awake. They meet and begin to form a bond during the night hours. AH, Highly OOC, Rated M for dark themes. No rape, no cutting. BxE. Banner by UnicornByEdward <3
Categories:
AU-Human
Characters:
Bella
,
Edward
Challenges:
Series:
None
Chapters:
4
Completed:
No
Word count:
18689
[Report This] Published:
February 27, 2009
Updated:
March 16, 2009
---



© 2008, 2009 Twilighted Enterprises, LLC. All Rights Reserved.
Unauthorized duplication is a violation of applicable laws.
Privacy Policy | Terms of Service


All publicly recognizable characters, settings, etc. are the intellectual property of their respective owners. The original characters and plot are the property of Stephenie Meyer. No copyright infringement is intended.