Your donations help keep this site running,
thank you very much for the support!

Penname:
cakes4547 [
Contact
]
Real name:
Caitlin
Status:
Member
Member Since:
November 10, 2009
Website:
Beta-reader:
No
FF.net - http://www.fanfiction.net/~twilightcakes




I'm TwilightCakes on FF.net, and also on twitter. My stories can also be found on The Writer's Coffee Shop, and My Vamp Fiction : )




You can find me on facebook as TwilightCakes Fanfiction.




Twitter: @TwilightCakes




Photobucket; http://s982.photobucket.com/albums/ae307/TwilightCakes/



[
Report This
]
Completing Midnight Sun
by
PaperArtist
Rated:
PG
[
Reviews
-
153
]
Summary:
"My life was an unending, unchanging midnight. It must, by necessity, always be midnight for me. So how was it possible that the sun was rising now, in the middle of my midnight?"
Many have tried to finish Stephenie Meyer's "Midnight Sun" (Twilight from Edward's point of view) and from what I've seen, none of them truly finished what she started. This ending to "Midnight Sun" starting at Chapter 13 is not only picking up where she left off, but uncovering the Edward that she created, and blending the perspectives of many to hear the rest of his story. This first book is a unique turning point in the arc of his character.
Categories:
Twilight
Characters:
None
Challenges:
Series:
None
Chapters:
13
Completed:
Yes
Word count:
90182
[Report This] Published:
January 10, 2010
Updated:
May 30, 2016
Vanity and Patience
by
achelle131
Rated:
NC-17
[
Reviews
-
908
]
Summary: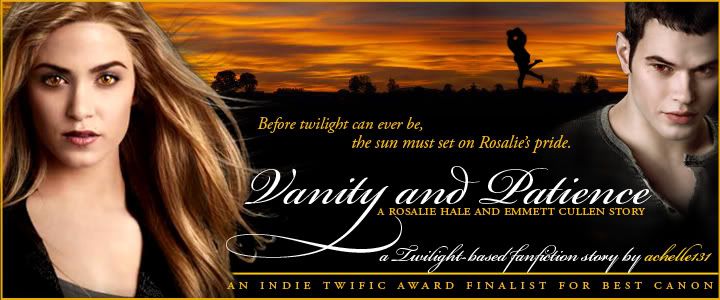 Rosalie is content to live her vampire life to its fullest, regardless of her resentment of her immortal situation. One day while hunting she comes across a dying man with an innocent face that she cannot resist. In an act of strength, she brings him home to change him into one of them.
How does the vain and selfish Rosalie deal with an irrational newborn vampire who can't see past his lust for blood to even notice her? Will she be able to swallow her pride and have the patience to stand by him? Will Emmett be the man who can change her life for the better?
All Chapters are Rosalie's POV
Warning: Rated NC-17 for a reason. Some chapters may contain adult language, violence, assault, and sexual content. Lemons in future chapters.
Thank you to my super-efficient Twilighted Beta, Texbelle!
Got Twitter? Follow Me! @achelle131
V&P Awards and Recognition:
Mentioned on The Lazy Yet Discerning Ficster Blog
Indie Twific Award Finalist Best Canon (WIP)
Sparkle Awards Alice Award Best PreTwilight Second Place
Golden Chocolate Awards Best Rosalie and Emmett Runner Up
Rec'd and Reviewed on the Altered Lions and Sacrificial Lambs Blog
Part of:
Categories:
Pre-Twilight
Characters:
Carlisle
,
Edward
,
Emmett
,
Esme
,
Rosalie
Challenges:
Series:
The Dirty, Horny Girls Chronicles
,
The Vanity and Patience Series
Chapters:
30
Completed:
Yes
Word count:
192931
[Report This] Published:
April 14, 2009
Updated:
December 28, 2011
---



© 2008, 2009 Twilighted Enterprises, LLC. All Rights Reserved.
Unauthorized duplication is a violation of applicable laws.
Privacy Policy | Terms of Service


All publicly recognizable characters, settings, etc. are the intellectual property of their respective owners. The original characters and plot are the property of Stephenie Meyer. No copyright infringement is intended.