Your donations help keep this site running,
thank you very much for the support!

Penname:
hunterhunting [
Contact
]
Real name:
Helena
Status:
Member
Member Since:
August 23, 2009
Website:
Beta-reader:
Twilight obsessed obviously.



[
Report This
]
With Teeth
by
TalulaBlue
Rated:
NC-17
[
Reviews
-
5906
]
Summary:
Edward is a 27-year-old alcoholic/addict struggling with his recovery. Bella is a 23-year-old who's moved back home after college. This fic chronicles how they meet, fall in love, and struggle with the complexities of their relationship. Not nearly as maudlin as it sounds (I hope).
Rated NC-17 for graphic (and sometimes non-romantic) sex, drug and alcohol use and abuse, profane language, and brief (very brief) suicidal ideation (although NO suicide attempts). No sexual assault, no cutting.
Categories:
AU-Human
Characters:
Bella
,
Edward
Challenges:
Series:
None
Chapters:
27
Completed:
Yes
Word count:
183053
[Report This] Published:
August 07, 2009
Updated:
August 22, 2010
The Hero Complex
by
aeb12484
Rated:
NC-17
[
Reviews
-
285
]
Summary:
"My name is Bella Swan. I'm an FBI agent in the Anti-terrorism unit. You don't know me, but I'm the one that just saved your life."
"Never in the field of human conflict was so much owed by so many to so few."--- Winston Churchill
Mass chaos and mayhem. The United States is in danger of a bio-terror attack that would bring this country to it's knees. Many will die a horrible death and the survivors won't be that lucky. It's left to Agent Bella Swan, Agent Edward Cullen, and an elite task force to save us from extinction. AH/AU/OOC NC-17 for lemons, violence, and language.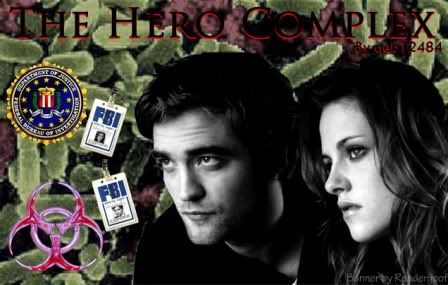 And a super huge thank you and hug to readergoof aka Becca, for making this amazing banner for me!! It's wonderful and you're an angel!! ^_^
Categories:
AU-Human
Characters:
Bella
,
Edward
Challenges:
Series:
None
Chapters:
24
Completed:
Yes
Word count:
71263
[Report This] Published:
July 08, 2009
Updated:
November 28, 2009
---



© 2008, 2009 Twilighted Enterprises, LLC. All Rights Reserved.
Unauthorized duplication is a violation of applicable laws.
Privacy Policy | Terms of Service


All publicly recognizable characters, settings, etc. are the intellectual property of their respective owners. The original characters and plot are the property of Stephenie Meyer. No copyright infringement is intended.