Your donations help keep this site running,
thank you very much for the support!

Penname:
beatingheartbaby [
Contact
]
Real name:
stace
Status:
Member
Member Since:
June 22, 2009
Website:
Beta-reader:


[
Report This
]
Breathe Again
by
Ysar
Rated:
R
[
Reviews
-
5438
]
Summary:
You know those fics where Edward doesn't come back and Bella forgets about him and five seconds later she's in bed with Jacob and none of it makes any damn sense?
Yeah, this isn't one of them.
This story picks up from the moment in New Moon when Jacob has driven Bella home after the cliff diving incident, right before he catches the scent of Alice. Only in this telling, Alice wasn't looking, so there's no sudden appearance at Bella's house, no Rosalie calling Edward and sending him on a suicidal mission to Volterra, and no reason for Bella to do anything but believe that Edward didn't love her anymore. This is simply a story of what might have happened if everyone stayed mostly in character and Edward's return was delayed. Yes, delayed. Because we all know that he was "this close" to coming back on his own anyhow.
So what would have happened if Bella had tried to move on with her life? Would she have found happiness with Jacob? And would Edward be too late?
* First in a series of stories
---
~I thought of Jacob's warm arms wrapped around me, his infectious laughter, and his ability to keep me from falling to pieces again… The pain choking my heart relaxed and I could breathe.~


~"More than anything," I whispered, not caring what I'd just agreed to. When it came to Bella, it didn't matter what the question was. I just wanted.~
Winner of:
Best Author, Most Romantic, Favorite Jacob, Most Suspenseful, & Best WIP in the Wolfpack Awards | Best Non-Canon Pairing (Incomplete) and Best WIP in the Moonlight Awards | Best During the Series in the Razzle Dazzle Awards | The Storyteller Award in the Shimmer Awards | Best JacobxBella in the Silent Tear Awards
Categories:
Twilight
,
New Moon
,
Eclipse
,
AU
Characters:
Bella
,
Jacob
Challenges:
Series:
A Blazing Sun
Chapters:
76
Completed:
No
Word count:
164405
[Report This] Published:
December 07, 2008
Updated:
September 11, 2010
Zenith
by
Majesta Moniet
Rated:
R
[
Reviews
-
1368
]
Summary:
Click here to watch the video trailer created by lilabut.
At a pivotal moment in New Moon, a simple choice alters the course of Bella's future, and she is forced to endure several more weeks before Edward's eventual return to Forks. Victoria, a pack of young werewolves, and the blossoming of an undeniable bond become the least of Bella's concerns as she undergoes her own supernatural transformation. It turns out vampires and werewolves aren't the only things that go bump in the night. Edward/Bella/Jacob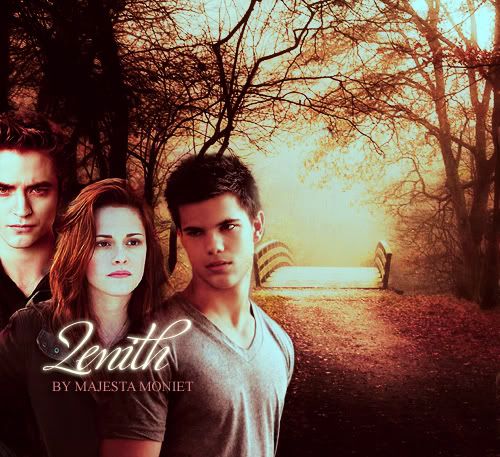 A huge thank you to placeofthunder for the lovely banner!
Categories:
New Moon
,
AU
Characters:
Alice
,
Bella
,
Billy
,
Carlisle
,
Charlie
,
Edward
,
Embry
,
Emily
,
Emmett
,
Esme
,
Jacob
,
Jared
,
Jasper
,
Kim
,
Leah
,
Quil
,
Rosalie
,
Sam
,
Seth
,
Victoria
Challenges:
Series:
None
Chapters:
33
Completed:
Yes
Word count:
145984
[Report This] Published:
August 30, 2008
Updated:
August 30, 2010
Summary:
A Jacob and Bella romance.
..."I never really wanted Edward. Not really. I know that now. If I have to choose between him, and you, then without hesitation, I choose you."
This picks up right where New Moon left off. Rated NC-17 for later chapters. Stephanie Meyer owns and originated these extremely compelling characters. I'm not making a dime from this.
Thank you silencechaser for the banner!
Categories:
New Moon
Characters:
Bella
,
Jacob
Challenges:
Series:
The Bella and Jacob Chronicles
Chapters:
13
Completed:
Yes
Word count:
30876
[Report This] Published:
June 18, 2009
Updated:
December 03, 2009
Bella and the Werewolves
by
antebellum
Rated:
NC-17
[
Reviews
-
393
]
Summary:
What if Edward never came back, Alice never saw Bella jump from the cliff, and Jacob had his fair chance with Bella? Bella and her werewolf friends are left to defend themselves against Victoria, and Bella's life lays in Jacob's hands, in more ways than she will ever know.
FYI: Bella x Jake. . . I have read some of the raunchier stories, and I see that many of them are OOC, majorly. Bella and Jake are two inexperienced teenagers. They don't use dirty language, they don't talk nasty to each other, they don't call each other "baby." They are clumsy, they are hormonal, they make mistakes. It is rated NC-17 because there is sex. However, the sexier scenes of this story will be free of vulgarity and nasty words, and will read more like a romance novel than a porn script. Please please please review and let me know what you think!
P.S. Like the banners? Want one, too? Contact me with details [who you want in it, what you want it to say, etc.] and emails! I will make it happen!
I am a member of Project Team Beta. If you would like to join or are seeking help, you can find the info at: http://community.livejournal.com/ptb_twilight/
Categories:
New Moon
Characters:
Bella
,
Jacob
Challenges:
Series:
The Bella and Jacob Chronicles
Chapters:
12
Completed:
No
Word count:
29154
[Report This] Published:
June 29, 2009
Updated:
November 30, 2009
---



© 2008, 2009 Twilighted Enterprises, LLC. All Rights Reserved.
Unauthorized duplication is a violation of applicable laws.
Privacy Policy | Terms of Service


All publicly recognizable characters, settings, etc. are the intellectual property of their respective owners. The original characters and plot are the property of Stephenie Meyer. No copyright infringement is intended.