Your donations help keep this site running,
thank you very much for the support!

Penname:
WritersBlock [
Contact
]
Real name:
Colette Remillard
Status:
Member
Member Since:
June 21, 2009
Website:
Beta-reader:
I am a mother of 2. I am a part time worker at a school. I LOVE Twilight.




Go Team Edward



[
Report This
]
Moonshadow
by
diamondheart
Rated:
NC-17
[
Reviews
-
642
]
Summary:
What if Edward kept his promise and Bella never heard from the Cullens again? Jacob was more than willing to console her, but would she have the sense to let him?
"You know what your problem is, Bells? You're in love - with the wrong thing. You think you're hung up on a guy who left you, but you're not. You're hung up on the idea of yourself as the heartbroken heroine."
Alternate ending to New Moon...just a nice love story, with monsters. Rated for certain chapters, at a sultry 108 degrees!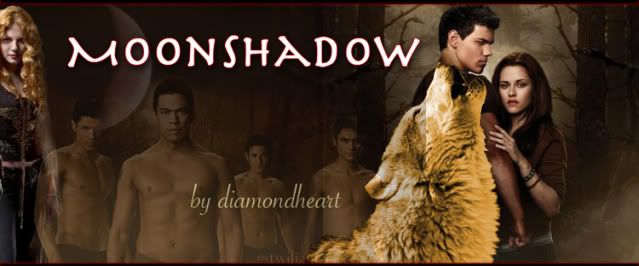 Many thanks to Sassenach Wench for the stylish story banner!
~*~A finalist in The Indie TwiFic Awards Winter 2010: Best New Moon Complete & AU that knocks you off your feet! Thanks for all the love and support! ~*~
Be sure to read the follow up fics '93 Million Miles' and 'Jacob's Ladder' posted here on Twilighted!
Categories:
New Moon
,
Eclipse
,
AU
Characters:
Bella
Challenges:
Series:
The Bella and Jacob Chronicles
,
The Moonshadow Continuum
Chapters:
20
Completed:
Yes
Word count:
76998
[Report This] Published:
February 22, 2009
Updated:
September 10, 2009
---



© 2008, 2009 Twilighted Enterprises, LLC. All Rights Reserved.
Unauthorized duplication is a violation of applicable laws.
Privacy Policy | Terms of Service


All publicly recognizable characters, settings, etc. are the intellectual property of their respective owners. The original characters and plot are the property of Stephenie Meyer. No copyright infringement is intended.