Your donations help keep this site running,
thank you very much for the support!

Penname:
mauvedreams [
Contact
]
Real name:
Bel
Status:
Member
Member Since:
October 07, 2008
Website:
Beta-reader:
No
Born in London. Raised in England and some parts Australia. Sent to Australia to live. Like vintage furniture, quirky friends, silly videos and black nail polish. Name is Bel. Don't wear it out ;)




Thank you to my supervisory beta, qjmom and my validation beta, Marcy!!



[
Report This
]
Seducing Ms Swan
by
Rialle
Rated:
PG-13
[
Reviews
-
3026
]
Summary: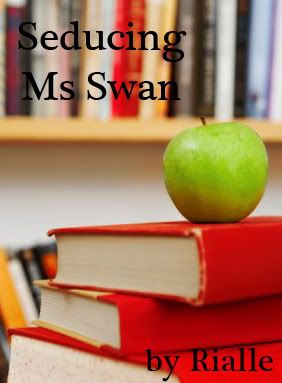 AU Post-New Moon.
Bella never jumped, Alice never had her vision and Edward never came back. Six years later, Bella is struggling to make a new life for herself as a teacher in Rochester, New York. How will she fare when a very familiar student crops up in her classroom? Will she be able to remain professional, or will old ties get in the way?
Edward is convinced that getting Bella back is just a matter of 'persuasion', but Bella isn't prepared to be that cooperative. What's more, she's in the grip of a dark secret which threatens to prevent her from loving ever again.
Bella Swan is slipping under...
ALSO POSTED ON FANFICTION.NET
Categories:
AU
Characters:
Bella
,
Edward
Challenges:
Series:
None
Chapters:
22
Completed:
Yes
Word count:
124383
[Report This] Published:
June 16, 2008
Updated:
July 25, 2010
Their Singer
by
SarahJayne
Rated:
NC-17
[
Reviews
-
500
]
Summary:
In Twilight, Edward told Bella that if her blood sang to James like it had to Edward, it would've meant a fight right there in the field. What if this was the case? Follow Bella as she is kidnapped and turned by James, and the Cullens' fevered attempts to get her back. Features James/Bella, but this is ultimately an Edward/Bella story. "NC-17" for language, situations, and eventual sexual content.
Categories:
Twilight
,
AU
Characters:
Alice
,
Bella
,
Carlisle
,
Charlie
,
Edward
,
Emmett
,
Esme
,
James
,
Jasper
,
Jessica
,
Laurent
,
Renee
,
Rosalie
,
Sam
,
Tanya
,
Victoria
Challenges:
Series:
None
Chapters:
14
Completed:
Yes
Word count:
34456
[Report This] Published:
July 24, 2008
Updated:
November 01, 2008
---



© 2008, 2009 Twilighted Enterprises, LLC. All Rights Reserved.
Unauthorized duplication is a violation of applicable laws.
Privacy Policy | Terms of Service


All publicly recognizable characters, settings, etc. are the intellectual property of their respective owners. The original characters and plot are the property of Stephenie Meyer. No copyright infringement is intended.