Your donations help keep this site running,
thank you very much for the support!

Penname:
neurmuscular [
Contact
]
Real name:
mahlet
Status:
Member
Member Since:
April 07, 2009
Website:
Beta-reader:


[
Report This
]
De Anima
by
Audeamus-Amor
Rated:
NC-17
[
Reviews
-
322
]
Summary:
A story of love and duty, family and deception. A mercenary? A girl? A murder? A romance? A member of the Volturi guard is sent to Forks on a reconnaissance mission. When an unexpected rescue operation detracts him from his goal it sets in motion a chain of events that will change him in ways he never expected.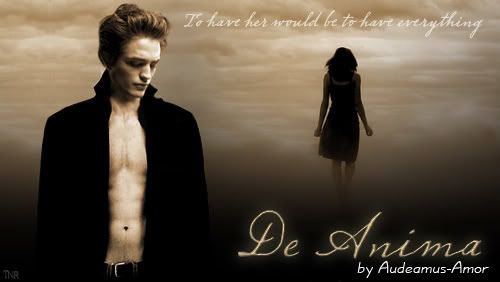 "I was tired of chasing her, I had been chasing her for far too long. Mere moments, a lifetime? I only knew that with her at my side, I was sure of who I was, that years upon years of emptiness were not quite in vain, that with her the anguish that grated at my soul came to halt. I could rebuild myself with her. And no, not piece by piece, but entirely. All at once. To have her would be to have every part of humanity that this life had to offer. To have her would be to have everything."
Thank you to the lovely NotoriousR for not only making my banner, but schooling me in the finer points of Photobucket.
The photo credit goes to smirks_works. The manip is bananas, right?
Categories:
AU
Characters:
Alice
,
Bella
,
Carlisle
,
Edward
,
Emmett
,
Esme
,
Jasper
,
Rosalie
Challenges:
Series:
None
Chapters:
16
Completed:
No
Word count:
61779
[Report This] Published:
December 31, 2008
Updated:
March 30, 2009
---



© 2008, 2009 Twilighted Enterprises, LLC. All Rights Reserved.
Unauthorized duplication is a violation of applicable laws.
Privacy Policy | Terms of Service


All publicly recognizable characters, settings, etc. are the intellectual property of their respective owners. The original characters and plot are the property of Stephenie Meyer. No copyright infringement is intended.