Your donations help keep this site running,
thank you very much for the support!

Penname:
sweetness4683 [
Contact
]
Real name:
Nicole
Status:
Member
Member Since:
April 03, 2009
Website:
Beta-reader:
No
About me...I am 27 and a big homebody! I am married to my highschool sweetheart (yes, it does happen) and I have four little dogs. I love all types of music and I love watching movies.




I was Team Edward for the longest! After watching New Moon I am now Team Switz! During the movie I really wanted Jacob and Bella to kiss, but anway! I love Twilight.




Right now my favorite match is Bella/Jasper or Peter.




I have a story completed and am trying to perfect it to post it on twilighted, but no success so far. I'm writing another story and want that posted on twilighted also.




If anyone helps writer's out, let me know because I cannot get my story possted on this site and I would really like to.



[
Report This
]
Eternal Night
by
Lola84
Rated:
NC-17
[
Reviews
-
237
]
Summary:
Bella wakes up in a living nightmare, with superhuman powers she doesn't understand and one hell of a burn in her throat. As the events leading up to her death begin to come back to her, she realizes who is to blame for damning her to an existence of eternal night. Unharnessed powers swirling in her consciousness, she realizes she must learn to control and direct her fury in order to exact vengeance on her killer. And vengeance would be sweet...
AU/OOC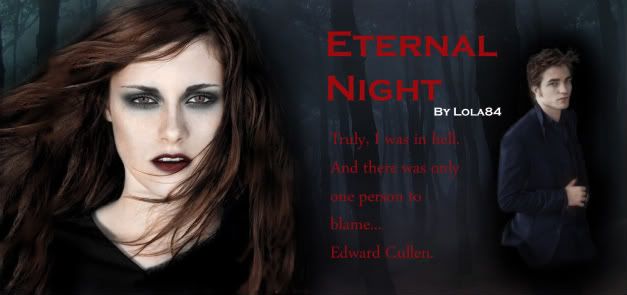 Categories:
AU
Characters:
Bella
,
Edward
Challenges:
Series:
None
Chapters:
11
Completed:
No
Word count:
26738
[Report This] Published:
April 18, 2009
Updated:
January 21, 2011
Fire and Ice
by
Franny
Rated:
NC-17
[
Reviews
-
336
]
Summary: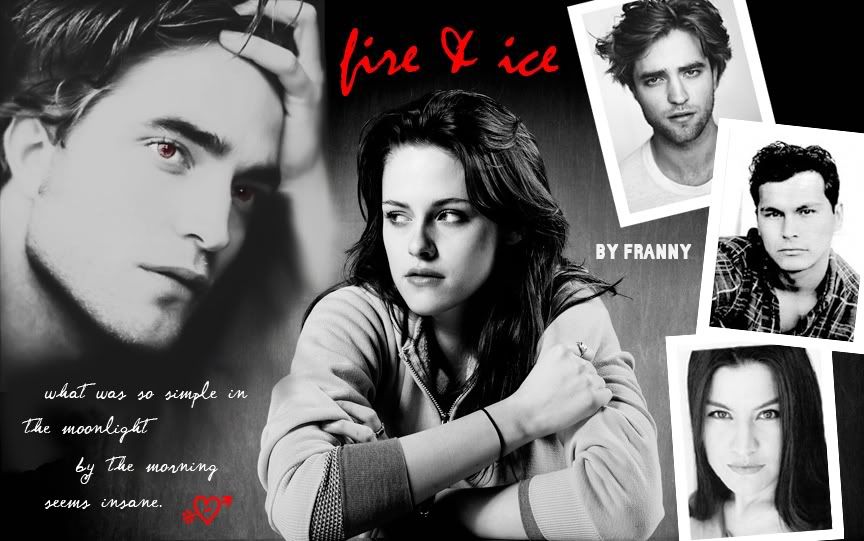 This story begins by re-imagining a favorite scene from Eclipse, in which Edward and Bella are stuck in a blizzard and must call on Jacob to keep Bella warm. The original scene hints at Bella's curiosity, Edward's awareness, and Jacob's lust, and the possibilities that lie within that love triangle. This version asks, what if Bella took what she wanted? What if Edward's long-dormant humanity were finally sparked? And what if Jacob's fantasy finally came true?
"Anything I had ever felt, allowed myself to feel, had been only a hint, a taste, a glimmer of that all-consuming heat. That heat that Bella had plunged me headlong into, mercilessly immersing me in Jacob's subconscious, ruthlessly repaying me for her months of frustration. Teaching me desire in one cold, confusing night."
happy to see my local Blockbuster advertising my fic for me:
Categories:
Eclipse
Characters:
Bella
,
Edward
,
Jacob
,
Leah
Challenges:
Series:
None
Chapters:
13
Completed:
No
Word count:
54025
[Report This] Published:
July 06, 2009
Updated:
September 15, 2010
---



© 2008, 2009 Twilighted Enterprises, LLC. All Rights Reserved.
Unauthorized duplication is a violation of applicable laws.
Privacy Policy | Terms of Service


All publicly recognizable characters, settings, etc. are the intellectual property of their respective owners. The original characters and plot are the property of Stephenie Meyer. No copyright infringement is intended.