Your donations help keep this site running,
thank you very much for the support!

Penname:
wingd writer [
Contact
]
Real name:
amy Hall
Status:
Member
Member Since:
March 01, 2009
Website:
Beta-reader:


[
Report This
]
Dying By Degrees
by
Reamhar
Rated:
NC-17
[
Reviews
-
665
]
Summary: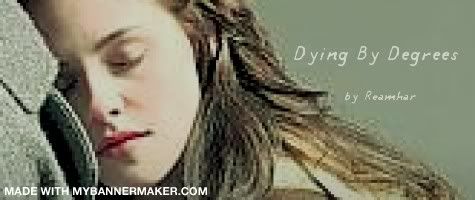 What if Bella's thoughts on the plane flying back to Seattle from Italy take her in a different direction from the plot in New Moon? Just where could a little twist of fate take the characters? An indepth look at Bella's thoughts and feeling at the end of New Moon and into an AU Eclipse.
Canon couples, and rated NC17 just to be safe. I am Bella and Edward all the way, so if you like Bella and Jacob, then I am afraid this is not the story for you.
Dying By Degrees on discussion forum. http://www.twilighted.net/forum/viewtopic.php?f=19&t=9136
Categories:
New Moon
Characters:
Bella
,
Edward
Challenges:
Series:
None
Chapters:
17
Completed:
No
Word count:
106997
[Report This] Published:
January 03, 2009
Updated:
June 19, 2010
Edward Letting Go
by
samekraemer
Rated:
NC-17
[
Reviews
-
1572
]
Summary: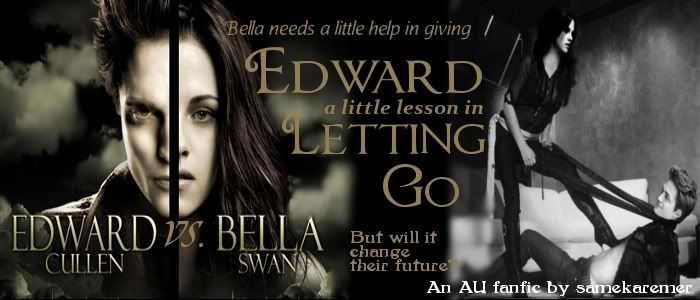 **Banner made by: Oceanwaters2006**
***NOW COMPLETE***
Bella's had enough of Edward holding back from her. She enlists some unexpected help in her pursuit to get Edward to let go of his Victorian views on love and sex. When unexpected events occur that change the plan for Bella's transformation, what course will their lives take?
Lots of lemons/humor. Canon couples. I took the story OOC because I wanted to let them be a little less uptight. I wanted them to have a lot more fun and a lot less fighting.
THANKS TO OCEANWATERS2006 FOR THE AMAZING BANNER!!!
Categories:
Post-Eclipse
,
AU
Characters:
None
Challenges:
Series:
None
Chapters:
35
Completed:
Yes
Word count:
173485
[Report This] Published:
July 17, 2009
Updated:
April 25, 2010
---



© 2008, 2009 Twilighted Enterprises, LLC. All Rights Reserved.
Unauthorized duplication is a violation of applicable laws.
Privacy Policy | Terms of Service


All publicly recognizable characters, settings, etc. are the intellectual property of their respective owners. The original characters and plot are the property of Stephenie Meyer. No copyright infringement is intended.