Your donations help keep this site running,
thank you very much for the support!

Penname:
Cheri Goodman [
Contact
]
Real name:
Status:
Member
Member Since:
August 25, 2010
Website:
Beta-reader:
Edward Cullen addict, returning to the fandom after many years away. I recently finished my Edge of Reason story on FanFiction.Net, and I hope to post the complete version here soon. I just have to figure out how to do that again...



[
Report This
]
Hide and Drink
by
Savage
Rated:
NC-17
[
Reviews
-
7602
]
Summary:
Now Complete!
Bella's blood was just too tempting to be ignored. In this version of Twilight, Edward takes Bella on a sadistic journey with his monstrous side. While Edward drags her around the world, barely keeping a step ahead of his frantic family, Bella battles the monster for possession of the gentler vampire inside her captor. EPOV.
Winner of the Faithful Shipper Awards for best Alternate Universe.
Winner of The Vampies, Twilight Vampfic Awards for Best Dark Vamp.
Winner of the Immortal Sin Awards for Best Darkward and Hottest Dark Vamp Fic!
Thank you Lace for the Banner!
"There was no other blood like this. Once she was gone, it would no longer be within my grasp. But if I stopped now, she would heal. Her body would make more. The blood would replenish. I could drink again. The promise of more – it was the only incentive that could have caused me to stop."
Categories:
Twilight
,
AU
Characters:
Bella
,
Edward
Challenges:
Series:
None
Chapters:
35
Completed:
Yes
Word count:
249263
[Report This] Published:
December 21, 2009
Updated:
August 28, 2010
Blood and Lust
by
AwesomeSauce76
Rated:
NC-17
[
Reviews
-
2280
]
Summary:
EPOV. Edward is having trouble balancing his urges for Bella's blood and Bella's body before the wedding. What started out as a simple "Practice Fic" has become a retelling of BD from EPOV that lets us see just how much he struggles for control at every turn.
Warning: Edward's got issues. Some dark images and angst, but nothing too bad and quickly giving way to steamy goodness.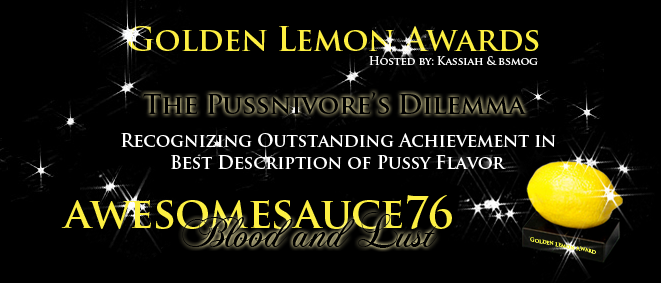 Categories:
Post-Eclipse
,
Breaking Dawn
Characters:
Bella
,
Edward
Challenges:
Series:
None
Chapters:
21
Completed:
Yes
Word count:
132400
[Report This] Published:
May 11, 2009
Updated:
March 30, 2010
---



© 2008, 2009 Twilighted Enterprises, LLC. All Rights Reserved.
Unauthorized duplication is a violation of applicable laws.
Privacy Policy | Terms of Service


All publicly recognizable characters, settings, etc. are the intellectual property of their respective owners. The original characters and plot are the property of Stephenie Meyer. No copyright infringement is intended.