Your donations help keep this site running,
thank you very much for the support!

Penname:
wmr1601 [
Contact
]
Real name:
Wendy
Status:
Member
Member Since:
June 05, 2010
Website:
www.wmr1601.wordpress.com
Beta-reader:
No
I'm an early-thirties, happily married stay at home mom with two boys. I adore all things Twilight and Rob related.




Besides reading and writing, I enjoy sewing, making mostly small quilts (although I can and have made full sized ones as well) and bags. I made my own purse and laptop bag.




Contests/Awards I've won:




FreeWritersAndReaders Musical Cues Contest, December 2010: Check Yes or No (available here, on FFn, and my blog, www.wmr1601.wordpress.com)




Quote Me Contest, May 2011: Snapshots of Marriage (available on FFn or my blog)




Emerging Swan Awards, September 2011: Best Drama/Angst, Music of the Heart (available here, on FFn, and my blog)












[
Report This
]
Speak Now
by
SaritaDreaming
,
wmr1601
Rated:
NC-17
[
Reviews
-
344
]
Summary:
Summary: One Bride, One Groom… One Huge Lie. Edward and Bella get together at a party hosted by Mike Newton, but by the end of the night, something's come between them. Fast forward four years to Edward's wedding to Tanya. Bella learns the truth behind what happened on that long ago night. Can she convince Edward to listen to the truth before it's too late?
Authors: SaritaDreaming and Wendy73 (wmr1601)
Loosely based on the song 'Speak Now' by Taylor Swift.
Lemonade will be served, eventually.
Categories:
AU-Human
Characters:
Bella
,
Edward
,
Tanya
Challenges:
Series:
None
Chapters:
29
Completed:
No
Word count:
178534
[Report This] Published:
March 02, 2011
Updated:
November 11, 2014
Sexual Healing
by
wmrcaz
Rated:
NC-17
[
Reviews
-
263
]
Summary:
Man-whore Edward Cullen is forced into seeing a therapist by his father. When he sees psychologist Dr. Isabella Swan to "deal" with his issues, sparks will fly. What will happen when the only woman Edward's ever really wanted is the one he can't have?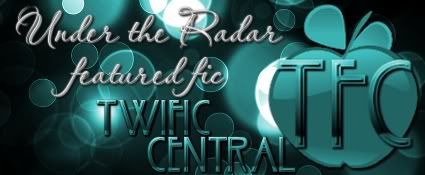 Categories:
AU-Human
Characters:
Bella
,
Edward
Challenges:
Series:
None
Chapters:
24
Completed:
No
Word count:
129835
[Report This] Published:
November 22, 2010
Updated:
November 10, 2011
---



© 2008, 2009 Twilighted Enterprises, LLC. All Rights Reserved.
Unauthorized duplication is a violation of applicable laws.
Privacy Policy | Terms of Service


All publicly recognizable characters, settings, etc. are the intellectual property of their respective owners. The original characters and plot are the property of Stephenie Meyer. No copyright infringement is intended.