Your donations help keep this site running,
thank you very much for the support!

Penname:
Coz [
Contact
]
Real name:
Status:
Member
Member Since:
April 07, 2010
Website:
Beta-reader:


[
Report This
]
Summary:
Edward Cullen was a loner, an outcast. He clearly hated everybody, including himself. He was not a nice person. So, why was I so drawn to him? And why did I get the crazy feeling he felt the same way?

WARNING: This story will deal with the aftermath of child abuse and rape. If that bothers you too much, I strongly recommend that you don't read.


Thanks to steffyxxface for the lovely banner!
Categories:
AU-Human
Characters:
Bella
,
Edward
Challenges:
Series:
None
Chapters:
115
Completed:
Yes
Word count:
365612
[Report This] Published:
November 13, 2009
Updated:
July 06, 2011
Wishing Star
by
Mystic_Ice24
Rated:
NC-17
[
Reviews
-
4550
]
Summary:
WRITTEN REWRITTEN REWRITTEN REWRITTEN
After her parents are killed in a plane crash, a young girl is rejected again & again by foster families for being too old. She wishes on a star nightly, but will she find what she seeks? Will the Cullens be that family?
NC-17 for later chapters. Warning" Violence, and sexual aggresion may be part of this story.
Winning Summary:
"I wish I may, I wish I might, have the wish I make tonight." With that one hope Isabella Swan faces life as best as she can. The tragedy of her parents' death, leaves her alone in a system where her age leaves her undesirable for adoption. That is until one day two people come into her life offering her a chance at hope. The Cullen family takes to Bella like a long lost sister. What happens when Bella is taken from the Cullens by a lost relative? Will Bella's hopes be destroyed? What happens when fate steps in years later to reunite Bella with the one's she loved and who loved her so long ago?
Bella knew what she would say, "Don't you want to be my sister?"
Thanks to Mrs C for the above Banner and my beta readergoof for the below Banner!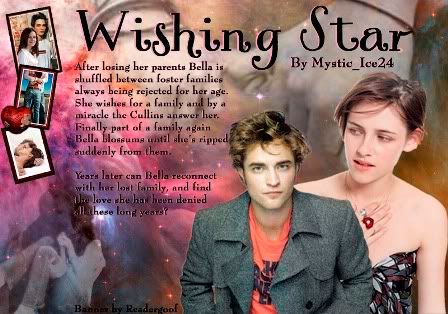 Thanks to Sleforever for below banner!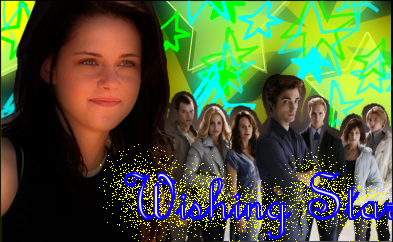 Categories:
AU-Human
Characters:
Alice
,
Bella
,
Carlisle
,
Edward
,
Emmett
,
Esme
,
Jasper
,
Rosalie
Challenges:
Series:
Always Human
Chapters:
40
Completed:
No
Word count:
137752
[Report This] Published:
August 05, 2008
Updated:
April 12, 2011
---



© 2008, 2009 Twilighted Enterprises, LLC. All Rights Reserved.
Unauthorized duplication is a violation of applicable laws.
Privacy Policy | Terms of Service


All publicly recognizable characters, settings, etc. are the intellectual property of their respective owners. The original characters and plot are the property of Stephenie Meyer. No copyright infringement is intended.