Your donations help keep this site running,
thank you very much for the support!

Penname:
Bforqueen [
Contact
]
Real name:
Bianca
Status:
Member
Member Since:
March 31, 2010
Website:
Beta-reader:
A tiny bit of info about me:




I'm 32, fabulously single and intent on staying that way. I'm easily distracted, have a problem with authority and refuse to grow up. I have a preference for all things dark and evil, which is why I love to write about the Volturi men. If they're not evil, I at least want my men to be hot, so wolf boys would be second on my list. I mean, what's the point of being a hot vamp if you're gonna be all whiney about it?




Part of http://tazzsobsession.blogspot.com - recs from me every Tuesday




Part of http://www.misfics.com/ - here I rec Volturi fics




On Twitter: http://twitter.com/Bforqueen




Together with SusanAshlea I've created the Volturi Series here on Twilighted and on MVF. Want to have your fic be part of it? Let me know and I'll add it.




xoxo




For some reason I won a ridiculous ammount of prizes in the Ruby Round of the Gem Awards! Thank you to all that voted for me. And also a big thank you to all that read my stuff...I flove you...















[
Report This
]
Revenge Cake
by
restlessxpen
Rated:
NC-17
[
Reviews
-
141
]
Summary: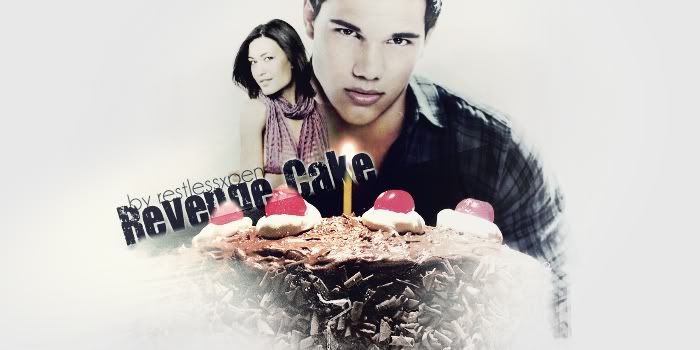 Emily is throwing Sam a surprise party for his 30th Birthday. Against everyone's better judgment, Leah's on the guest list, and she doesn't plan on coming quietly. When she starts to disturb the order of the party, Jacob takes it into his own hands to reign Leah in before she can ruin everything and make a fool of herself. However, Leah doesn't plan on making anything easy, and Jake soon finds that he may be getting in over his head. Sam's birthday cake won't be the only casualty when Leah's provoked.
*Banner by Reachingasifall
Categories:
Post-Breaking Dawn
Characters:
Jacob
Challenges:
Series:
None
Chapters:
26
Completed:
Yes
Word count:
77282
[Report This] Published:
March 11, 2010
Updated:
March 09, 2011
---



© 2008, 2009 Twilighted Enterprises, LLC. All Rights Reserved.
Unauthorized duplication is a violation of applicable laws.
Privacy Policy | Terms of Service


All publicly recognizable characters, settings, etc. are the intellectual property of their respective owners. The original characters and plot are the property of Stephenie Meyer. No copyright infringement is intended.