Your donations help keep this site running,
thank you very much for the support!

Penname:
Red20881 [
Contact
]
Real name:
Helene Montalvo
Status:
Member
Member Since:
March 01, 2010
Website:
Beta-reader:
I'm a writer and a huge fan of the Twilight series. I have several novels under my belt that I am working on publishing, but on the side I am writing fanfiction. I love to let my imagination run wild, and hopefully you will have the opportunity to be a part of it!



[
Report This
]
Brilliance
by
JustineNicole
Rated:
NC-17
[
Reviews
-
117
]
Summary:
Successful fashion writer, Bella Swan leads a life of promiscuity, taking from men only what she can't get elsewhere. Will the new editor, Edward Cullen, be able to save her from her lonely life? Or will her past become too much to bear, leaving him in the dust?
Thanks so much to Readergoof for the fabulous banners!! Love them!
Categories:
AU-Human
Characters:
Edward
Challenges:
Series:
None
Chapters:
22
Completed:
No
Word count:
62634
[Report This] Published:
April 08, 2010
Updated:
June 14, 2011
The Misapprehension of Bella Swan Regarding the Inferior Intellect of Hockey Whores
by
hunterhunting
Rated:
NC-17
[
Reviews
-
2570
]
Summary:
Edward Cullen is an anomaly as far as Bella Swan is concerned, defying all her preconceived notions about the whorishness of hockey players. Through incessant stalking and persistence, can Edward wears down Bella's resistence and teaches her to embrace her inner hockey hooker? A ridiculous love story.
Categories:
AU-Human
Characters:
Edward
Challenges:
Series:
Always Human
Chapters:
2
Completed:
Yes
Word count:
14519
[Report This] Published:
January 27, 2010
Updated:
August 19, 2010
The List
by
Laura Cullen
Rated:
NC-17
[
Reviews
-
13669
]
Summary: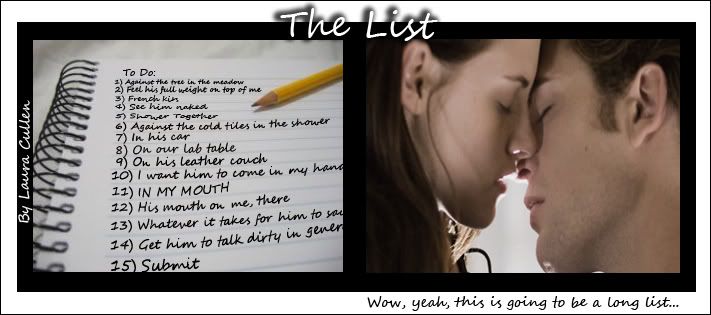 Four weeks before her wedding to Edward, Bella is frustrated. She knows there's little-to-no chance of getting him to bend his rules and boundaries now, but there's no harm in fantasizing about what could happen later. So she begins compiling a list of things that she and Edward can do together once they're happily married. She's surprised to find she might be able to cross some things off earlier than she thought...
Story contains mature themes and is not intended for younger readers.
Thanks to Mandi, aka m81170, for the great banner!
Categories:
Post-Eclipse
Characters:
Alice
,
Bella
,
Carlisle
,
Charlie
,
Edward
,
Emmett
,
Esme
,
Jasper
,
Rosalie
Challenges:
Series:
None
Chapters:
28
Completed:
Yes
Word count:
187877
[Report This] Published:
December 28, 2008
Updated:
March 18, 2010
---



© 2008, 2009 Twilighted Enterprises, LLC. All Rights Reserved.
Unauthorized duplication is a violation of applicable laws.
Privacy Policy | Terms of Service


All publicly recognizable characters, settings, etc. are the intellectual property of their respective owners. The original characters and plot are the property of Stephenie Meyer. No copyright infringement is intended.