Your donations help keep this site running,
thank you very much for the support!

Penname:
MinaBR [
Contact
]
Real name:
Mina
Status:
Member
Member Since:
February 03, 2010
Website:
Beta-reader:
No
"One of God's own prototypes. A high-powered mutant of some kind never even considered for mass production. Too weird to live and too rare to die." - Raoul Duke.






[
Report This
]
Spinal Cord
by
Midnight Ariel
Rated:
R
[
Reviews
-
45
]
Summary: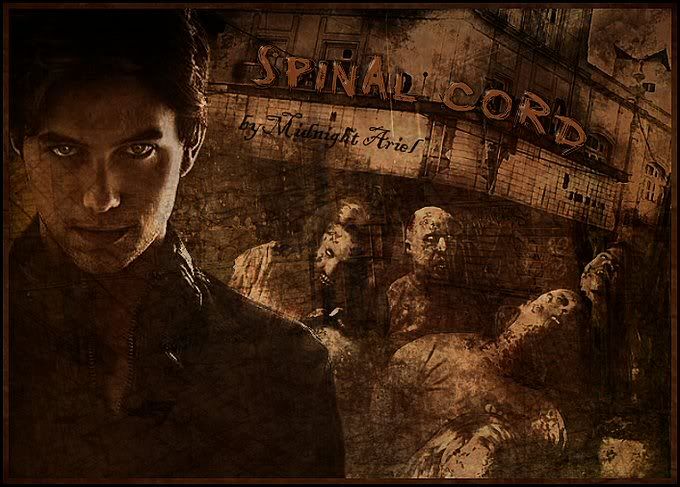 At the end of No Way Back, Jasper and Scott Cullen, along with their wives Alice and Diane, have left the family to take a year long trip around the world. They don't get far before a mysterious illness breaks out in American's heartland. When it turns out that zombies are on the loose, Jasper is called by those who assumed power after the fall of the Volturi. Why would vampires be needed to destroy zombies? Well, that is quite the question, isn't it? Enter Xander and Blake Clayton: two brothers who sign up to fight in the coming apocalypse. Sadly for them, things are not as they seem. Come on a journey filled with rotting flesh and warring covens. This is not your typical zombie fic...trust me.
Note: While this is the sequel to No Way Back you do not have to read that story to enjoy this one. For you NWB readers: Please note this fic takes quite a different turn. ~MA
Categories:
Post-Breaking Dawn
Characters:
Alice
,
Jasper
,
Other Character
Challenges:
Series:
None
Chapters:
16
Completed:
No
Word count:
96574
[Report This] Published:
February 09, 2012
Updated:
May 13, 2014
No Way Back
by
Midnight Ariel
Rated:
R
[
Reviews
-
196
]
Summary:
If you faced losing everything…
Would you trade your mortality to keep just a part of what you have? Count the cost before you decide.

One year after BD and all is not well. Bella's newborn year was way too easy. The newest Cullens are much harder to handle-both of them. Jasper has a tough year ahead dealing with these two! Flashes of human memories add to the tension and mystery.
Once the venom courses through your veins it's too late to change your mind.
New banner by Sunray16!!!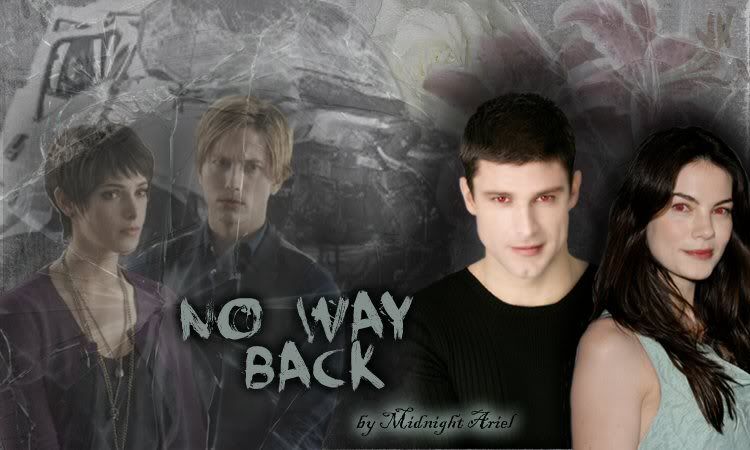 Carlisle Cullen considers himself a doctor first and a vampire second. His focus is to protect life. What he finds at a fatal crash seen causes him to break the treaty his family has honored for over 80 years. The entire Cullen family will face the consequences of his last minute decision. Now the wolves are pissed and the Volturi are getting nervous.
Scott and Diane started out on a family vacation they would never finish. After losing their lives and children through the fires of transformation, can they still hang on to each other? Diane's human memories, once thought lost, are slowly breaking through in the strangest of ways. Why does she recognize the vampire in one of Esme's treasured albums? By the time the Cullens figure out what's going on, all they can do is prepare for the inevitable.
This is a story of love, loss, and picking up the pieces. Even for immortals time only moves forward. There really is no way back.
Aug. 2011 Nominated in the best Angst/Drama Category
Categories:
Post-Breaking Dawn
Characters:
Alice
,
Bella
,
Carlisle
,
Edward
,
Emmett
,
Esme
,
Jacob
,
Jasper
,
Nessie
,
Other Character
,
Renesmee
,
Rosalie
Challenges:
Series:
None
Chapters:
30
Completed:
Yes
Word count:
162730
[Report This] Published:
February 02, 2011
Updated:
February 08, 2012
---



© 2008, 2009 Twilighted Enterprises, LLC. All Rights Reserved.
Unauthorized duplication is a violation of applicable laws.
Privacy Policy | Terms of Service


All publicly recognizable characters, settings, etc. are the intellectual property of their respective owners. The original characters and plot are the property of Stephenie Meyer. No copyright infringement is intended.