Your donations help keep this site running,
thank you very much for the support!

Penname:
McGee [
Contact
]
Real name:
M
Status:
Member
Member Since:
September 10, 2009
Website:
Beta-reader:
No
Life-long West Coast girl recently transplanted to the East Coast




I'm new to the fanfic community, needing to find out what would have happened to the Twi-crew if things had gone differently and then I got sucked in the vortex.




My reading appetite is voracious and omnivorous. I'll read almost anything, including AU, AH, non-canon, slash, as long as it is written well and has a heart.




Total sucker for doomed romance, i.e. Buffy and R+J, still disappointed that SMeyer turned a horror story into a fluffy bunny one and wished she hadn't.




Love: martinis, cook books, leopard-print, my iPod, art museums, irony, trees, Eddie Izzard, heart fail, and bubble baths




Not Love: bleu cheese, improper use of the word "impact", car horns, rudeness, unnatural dialogue, pantyhose, the "b" word, gratuitous violence




You can find me on twitter @McGee_42. It's mostly nonsense but some teasers.



[
Report This
]
Summary:
This is a compilation of fics written by KariAnn, achelle131, cfmom, and MsShayB, the original Dirty, Horny Girls!
rn
Keep in mind that the stories in this series are not necessarily "sequels" to one another, unless specified by the author. For instance, In Pursuit of Normalcy and Defying Destiny are both post-Breaking Dawn, but they exist in decidedly different "universes."
rn
*Stories listed in alphabetical order by title.
Categories:
Pre-Twilight
,
Twilight
,
New Moon
,
Breaking Dawn
,
Post-Breaking Dawn
,
AU
Characters:
None
Challenges:
Open:
Moderated
Summary:
What happens when three dirty, horny girls come together in friendship in a fandom such as Twilight? We decide to write an anthology of dirty, horny oneshots/short stories, that's what!
rn
So sit back, relax, and enjoy some naughty fun written by KariAnn (author of In Pursuit of Normalcy), cfmom (author of Fractured Hearts), and achelle131 (author of Vanity and Patience).
rn
Anything goes as far as pairings and sometimes triplings - the should be's, the what ifs, and the never agains: Edward and Bella? Edward, Bella, and Jacob? Emmett, Rosalie, and Edward? Jacob and Bella? Paul and Rachel? Nessie and Felix?? We've got it, baby. (Or at least we will very soon!)
rn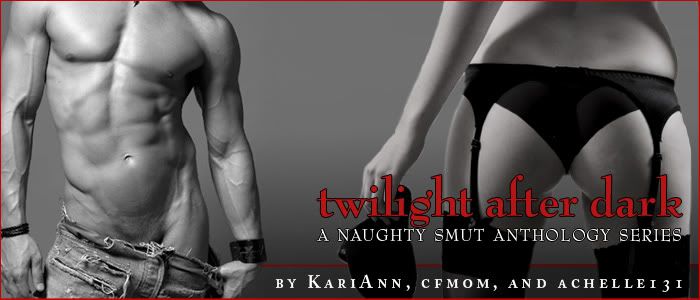 rn
Gorgeous, sexy banner by our very own achelle131!
Categories:
Pre-Twilight
,
Twilight
,
New Moon
,
Eclipse
,
Post-Eclipse
,
Breaking Dawn
,
Post-Breaking Dawn
,
AU
,
AU-Human
Characters:
Bella
,
Edward
Challenges:
Open:
Moderated
---



© 2008, 2009 Twilighted Enterprises, LLC. All Rights Reserved.
Unauthorized duplication is a violation of applicable laws.
Privacy Policy | Terms of Service


All publicly recognizable characters, settings, etc. are the intellectual property of their respective owners. The original characters and plot are the property of Stephenie Meyer. No copyright infringement is intended.