Your donations help keep this site running,
thank you very much for the support!

Penname:
btvsna [
Contact
]
Real name:
Miki
Status:
Member
Member Since:
April 27, 2009
Website:
Beta-reader:
No
Howdy! I'm Miki *points above* and I'm a Twilight/Edward/Jasper/smutty fic-aholic. *listens to chourus of "Hi, Miki"* I'm fairly new to the whole world of Twilight (I think I started the first book a few months ago), but I've jumped in head first. Acutally, I more did a cannon ball into the pool, but all the same. Right now I've got a one shot that's being edited and two chaptered fics I'm working ont (like I said, cannon ball), so you should be able to read what I do some time soon. Hopefully. *fingers crossed*




I am all for cannon pairings and storys, but like to delve into AU from time to time. And while I am hard core Team Edward, once in a while I'll write or read a little something that's Team Jacob. Normally I'm not so wishy washy, but those boys do bring it out in me. hehe




As for me, I'm 23, married, and working on going back to college so that I can one day teach snoby teenagers the joys of Math. Really, I'd rather teach them the joys of English, but NY is about chock full of English teachers. I love Math and English (almost) equally, so hence my choice.




I am obsessed with Twilight (obviously), Harry Potter, House of Night, knitting, chrocheting, House (though I drool over Chase and Wilson more than House), and those crazy science shows that tell you why time doesn't exist. I think if I watch one more show about the theory of realitivity my husband is going to cut the cable cord. hehe




Well, dearies, if there's anything else you need knowing, feel free to contact me.



[
Report This
]
A Blazing Sun
by
Ysar
[
Reviews
-
5773
]
Summary:
You know those fics where Edward doesn't come back and Bella forgets about him and five seconds later she's in bed with Jacob and none of it makes any damn sense?
Yeah, this isn't one of them.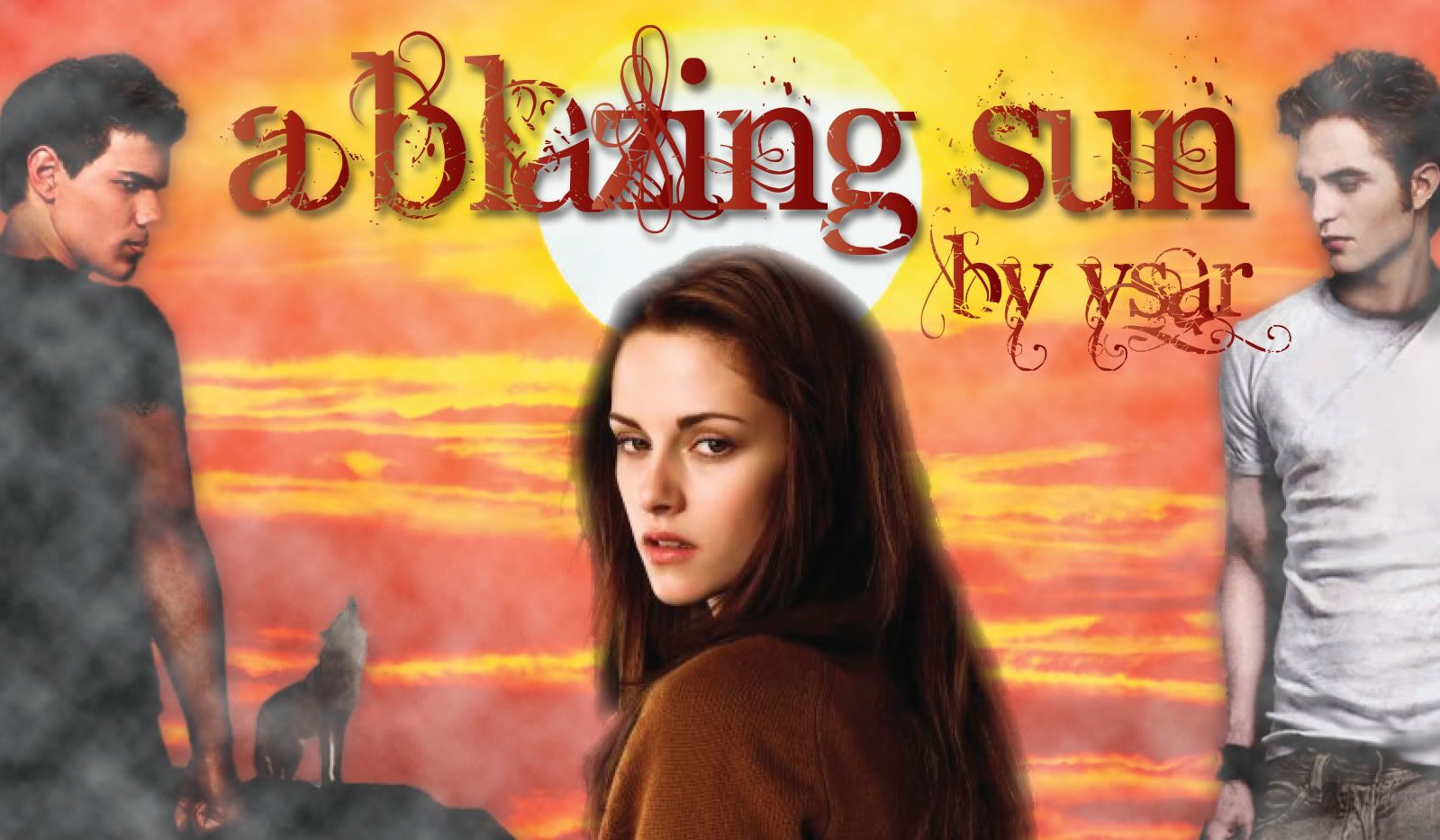 The first story picks up from the moment in New Moon when Jacob has driven Bella home after the cliff diving incident, right before he catches the scent of Alice. Only in this telling, Alice wasn't looking, so there's no sudden appearance at Bella's house, no Rosalie calling Edward and sending him on a suicidal mission to Volterra, and no reason for Bella to do anything but believe that Edward didn't love her anymore. This is simply a story of what might have happened if everyone stayed mostly in character and Edward's return was delayed. Yes, delayed. Because we all know that he was "this close" to coming back on his own anyhow. So what would have happened if Bella had tried to move on with her life? Would she have found happiness with Jacob?

Several one-shot companion stories give us a glimpse at things through the eyes of Charlie, Angela, Jessica, Embry, and the other characters.

Mike & Lauren complicate things, Bella's planning to go to college, Victoria is on the prowl, and imprinting is running rampant. And that's just the beginning!
How will Edward react when he finds out what's been going on while he was gone? And who will Bella choose in the end?
Categories:
New Moon
,
AU
Characters:
Bella
,
Jacob
Challenges:
Open:
Closed
---



© 2008, 2009 Twilighted Enterprises, LLC. All Rights Reserved.
Unauthorized duplication is a violation of applicable laws.
Privacy Policy | Terms of Service


All publicly recognizable characters, settings, etc. are the intellectual property of their respective owners. The original characters and plot are the property of Stephenie Meyer. No copyright infringement is intended.