Your donations help keep this site running,
thank you very much for the support!

Penname:
achelle131 [
Contact
]
Real name:
achelle denali cullen
Status:
Member
Member Since:
March 22, 2009
Website:
http://www.fanfiction.net/~achellecandy
Beta-reader:
Got Twitter? Follow me! @achelle131




Twilight fan. Team Emmett. Team Edward. Team Paul. Team Rosalie




For teasers/spoilers and other fun discussions, visit my threads on the twilighted forum:




Vanity and Patience/Strength and Remorse:
http://www.twilighted.net/forum/viewtopic.php?f=17&t=3584




Hungry Like The Wolf:
http://www.twilighted.net/forum/viewtopic.php?f=52&t=14414






[
Report This
]
Summary:
What happens when three dirty, horny girls come together in friendship in a fandom such as Twilight? We decide to write an anthology of dirty, horny oneshots/short stories, that's what!
rn
So sit back, relax, and enjoy some naughty fun written by KariAnn (author of In Pursuit of Normalcy), cfmom (author of Fractured Hearts), and achelle131 (author of Vanity and Patience).
rn
Anything goes as far as pairings and sometimes triplings - the should be's, the what ifs, and the never agains: Edward and Bella? Edward, Bella, and Jacob? Emmett, Rosalie, and Edward? Jacob and Bella? Paul and Rachel? Nessie and Felix?? We've got it, baby. (Or at least we will very soon!)
rn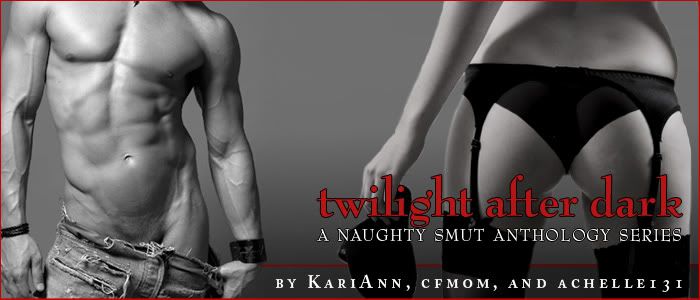 rn
Gorgeous, sexy banner by our very own achelle131!
Categories:
Pre-Twilight
,
Twilight
,
New Moon
,
Eclipse
,
Post-Eclipse
,
Breaking Dawn
,
Post-Breaking Dawn
,
AU
,
AU-Human
Characters:
Bella
,
Edward
Challenges:
Open:
Moderated
---



© 2008, 2009 Twilighted Enterprises, LLC. All Rights Reserved.
Unauthorized duplication is a violation of applicable laws.
Privacy Policy | Terms of Service


All publicly recognizable characters, settings, etc. are the intellectual property of their respective owners. The original characters and plot are the property of Stephenie Meyer. No copyright infringement is intended.