Your donations help keep this site running,
thank you very much for the support!

Series - E
Early Turnings
by
xXSizzlingBabeXx
[
Reviews
-
480
]
Summary: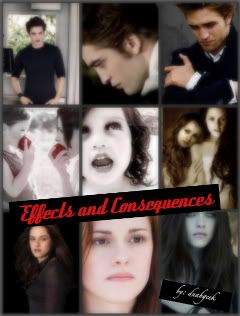 rn
What if Bella got exactly what she wanted from Edward for her birthday? What if it changed everything?
rn
What if the Consequences lead Bella away from Forks and into the arms of the Volturi?
rn
What if Edward finds out that Bella is dead?
rn
Consequences is the story for Bella's point of view.
rn
Cause and Effect tells the same story told entirely by Edward
Categories:
New Moon
,
AU
Characters:
Bella
,
Edward
Challenges:
Open:
Moderated
Existance
by
invisiblevampire
[
Reviews
-
37
]
---



© 2008, 2009 Twilighted Enterprises, LLC. All Rights Reserved.
Unauthorized duplication is a violation of applicable laws.
Privacy Policy | Terms of Service


All publicly recognizable characters, settings, etc. are the intellectual property of their respective owners. The original characters and plot are the property of Stephenie Meyer. No copyright infringement is intended.