Your donations help keep this site running,
thank you very much for the support!

Series - E
Early Turnings
by
xXSizzlingBabeXx
[
Reviews
-
480
]
Summary: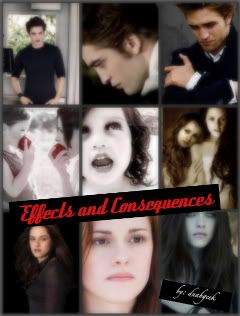 rn
What if Bella got exactly what she wanted from Edward for her birthday? What if it changed everything?
rn
What if the Consequences lead Bella away from Forks and into the arms of the Volturi?
rn
What if Edward finds out that Bella is dead?
rn
Consequences is the story for Bella's point of view.
rn
Cause and Effect tells the same story told entirely by Edward
Categories:
New Moon
,
AU
Characters:
Bella
,
Edward
Challenges:
Open:
Moderated
Summary:
Have you ever wanted a place where you could go to find Jasper or Alice centric stories? Well this is the place for you! This is a series solely dedicated to the Pixie and her blond haired empath.

Are you looking for an All-Human story? How about All-Vampire? I'll assure you that you will find that in this very series. You don't have to be a Jasper/Alice fan to love these stories.




If you have, or know of a story that you think would be suitable for this series then feel free to contact me. But non canon, such as Jasper/Bella stories are not allowed and will not be accepted.

You'll find the multi-chapter stories are listed at the top, whereas the one shots are at the bottom. All multi-chapter stories are listed according to the amount of chapters they have. The more chapters you have, the higher up the list you'll be. The one shots are listed alphabetically.

***************************************************

Contributing Authors:

Adharmic, agiismsxx, Aussiemum1204, babymonsta, BeautifulMessenger, Beckylady, cakes4547, casket4mytears, Cerena, Chakrakhan, Chocolatebrowneyes, cicada, CoyotegurlNikki, DizziBlnde, Dizzydaydream, emm, erikasbuddy, ermireallydontcare, FrozenSoldier, glitteratiglue, Gravity, HeartOfDarkness, idealskeptic, Jenny Cullen, kaatee, koko23cat, kyla713, Looby Luscious, luckyj52587, marybetherrrrs, MissBella, MissManda, mmtwilight, omgiluffbleachvampires, openhome, rainsoakedhello, Realynn, renesalecau, Rosalynn, Rusulka, SapphireStar328, Several Ways, siDEADde, SirenPrincess, Squeeka Cuomo, Struck Upon A Star, Subtlynice, TheDoctor, Thejazeffect, tigerwriter, Twivamp, umbrellas_can, valelf, WinniePony.


* My photobucket account keeps exceeding its bandwidth due to the number of images I have used within this series. If you are a contributor and using my banner, please can you host the image yourself.

Banner by Delicious Dreamer:


Categories:
Pre-Twilight
,
Twilight
,
New Moon
,
Eclipse
,
Breaking Dawn
,
Post-Breaking Dawn
,
AU
,
AU-Human
Characters:
Alice
,
Jasper
Challenges:
Open:
Moderated
Existance
by
invisiblevampire
[
Reviews
-
37
]
---



© 2008, 2009 Twilighted Enterprises, LLC. All Rights Reserved.
Unauthorized duplication is a violation of applicable laws.
Privacy Policy | Terms of Service


All publicly recognizable characters, settings, etc. are the intellectual property of their respective owners. The original characters and plot are the property of Stephenie Meyer. No copyright infringement is intended.