Your donations help keep this site running,
thank you very much for the support!

Edward
Spontaneous Combustion
by
blondie
Rated:
PG-13
[
Reviews
-
97
]
Summary: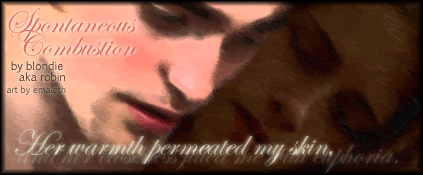 This is Edward's side of the bedroom reunion scene in eclipse (Chapter 8: Temper, pages 185-195).
Many thanks to psymom and MarcyJ for very thorough and extremely helpful betas - they're amazing!
As usual, all the regular disclaimers apply: Stephenie Meyer owns all things twilight; no money is being made from this work; and absolutely no copyright infringement is intended. The dialog from eclipse here is copied only for clarity. Thanks to Stephenie for creating such wonderful characters!
One other note: I am a member of team Switzerland - I do not dislike Jacob, so don't be upset with me. Edward, on the other hand, has his own opinions...
In Edward's words...
Categories:
Eclipse
Characters:
Bella
,
Edward
Challenges:
Series:
Totality
Chapters:
4
Completed:
Yes
Word count:
7339
[Report This] Published:
March 22, 2008
Updated:
April 18, 2008
---



© 2008, 2009 Twilighted Enterprises, LLC. All Rights Reserved.
Unauthorized duplication is a violation of applicable laws.
Privacy Policy | Terms of Service


All publicly recognizable characters, settings, etc. are the intellectual property of their respective owners. The original characters and plot are the property of Stephenie Meyer. No copyright infringement is intended.